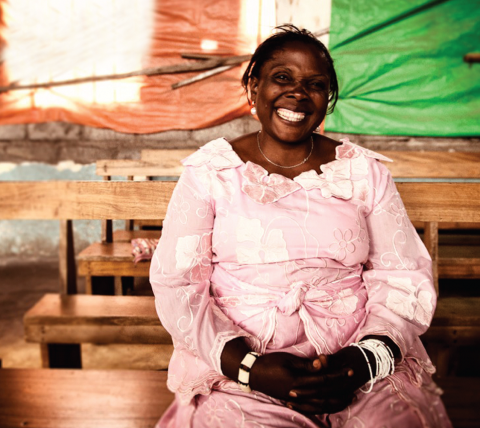 A FEW YEARS ago in this column, I told the story of Charlene, a woman I had just met in a camp for displaced people in the Democratic Republic of Congo. Charlene's civilian husband had been murdered by rebel fighters in Congo's brutal civil war. She and her eight children then fled for their lives, ultimately finding shelter in the hovel of mud and sticks where I met them (September-October 2010).
Like thousands of other displaced Congolese women, Charlene had been forced by destitution to hike into the forest for firewood to trade for food for her children. Like thousands of other displaced Congolese women, Charlene had been brutalized by fighters who hid in the forests and used rape as a weapon of war. Like thousands of other displaced Congolese women, Charlene had been impregnated by her rapist. Because of the stigma of rape in that culture, the beautiful two-week-old baby she'd named David was destined to a life of marginalization and despair.
Charlene was the first woman I met in Congo. She explained to me that even when the women went to the forest in groups, armed rebels would overpower and rape them. If husbands went into the forest to protect their wives, the rebels would kill the husbands, and then rape the wives. The women took the risk—and paid the price.
For me, Charlene gave human shape to Congo's horrific story of colonial exploitation, tribal conflict, and foreign greed. In the four years after we met, hers was the first story I told whenever I spoke about Congo. It was her pain that motivated me to keep speaking, writing, and advocating for Congo.
I didn't expect that I'd ever know what happened to Charlene. Just a few weeks ago an amazing thing happened. A friend traveling in Congo with the same organization I'd traveled with four years ago sent me an email filled with exclamation points. "I met your Charlene! She's doing so well! She's become a strong, joyful leader for other women! You wouldn't believe the transformation!"
I was thrilled! But then I looked at the photo of Charlene that my friend had sent. The woman in the photo was strong and joyful, and maybe her name was Charlene, but she wasn't my Charlene. Anyone could see that.
But my friend insisted. She sent me additional photos and tracked down the translator who had originally introduced me to Charlene. He confirmed that the woman in the new photos was, indeed, my Charlene—my Charlene transformed!
Unknown to me, a small portion of funds I had donated to a ministry in Congo had been given to Charlene. I had wanted that to happen, of course, but was never sure that it had. I feared that Charlene had slipped through the cracks of a system strained to the breaking point. But she hadn't! She had received the money and had used it to start a soap-making business so she could earn money without going into the rebel-infested forest.
The soap business grew and eventually became a source of income and hope to many women in the camp. Charlene even saved enough money to buy a small parcel of land. Soon, she'll be moving out of the camp and into her own home.
Recently, a filmmaker traveling in Congo met Charlene. He was so moved by her story that he joined the movement to help her 4-year-old son and others like him. A baby born of rape and destined for despair, David is one of many who now face a future filled with possibility.
For years, Charlene's face haunted me and compelled me to action. It no longer haunts me—on the contrary, it fills me with joy!—but it still compels me to action. Why? Because there are thousands of Charlenes in Congo. Thousands of stories waiting for a new ending. Sometimes we never hear the end of the story, but when we do—as I did with Charlene—it's a stunning reminder that even our small acts of love can make a huge difference.
Is God's Spirit nudging you to touch the life of a woman in Congo? Find out how at worldrelief.org/standforcongo.
Lynne Hybels, co-founder of Willow Creek Community Church in Illinois, is author of Nice Girls Don't Change the World.