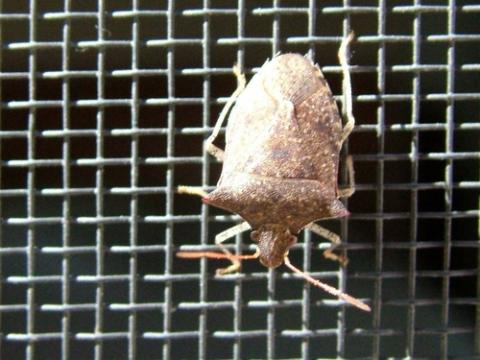 I DON'T WANT to keep harping about this climate change thing, but someone has to have the singular courage to stand up for the future of our globe. Someone, I mean, besides 98 percent of the world's climate scientists, the governments of every other industrialized nation, and millions of people around the world. Not counting those, I am that man.
Because I have seen the future of a warming planet, and it's not just fraught with melting glaciers and rising oceans. It's also got stink bugs.
Twice a year, Sojourners' editors and its highly esteemed art director drive to a cabin in the mountains of West Virginia to plan future issues. (I will pause briefly for Colorado readers to stop laughing convulsively at the suggestion that hilltops a few hundred feet above sea level can be called "mountains." But if I get carsick on the drive up, I'm calling it a mountain.)
After we arrived this fall—and my stomach finally calmed down—we settled into our usual method of magazine planning: a rapid-fire brainstorming of ideas both provocative and ground-breaking, but not so much that it keeps me awake. Then came the first telltale tapping sounds from the window.
A half-dozen stink bugs had gathered on the inside of the pane, with a dozen more on the outside, all of them repeatedly bumping into the window, unable to decide on one plan of action. But enough about Mitt Romney.
When next I looked at the window, it was covered with insects, blotting out most of the outside light, an apocalyptic scene that would have taken Stephen King 100 pages to develop, but which took only about 10 minutes in retreat time. (Retreat time is calculated using the following formula: Meeting agenda + coffee - dozing off = make more coffee.)
On a previous retreat, thousands of stink bugs had invaded the interior of the cabin, making it difficult to think and nap, especially when bugs were flying into our hair and pooping in our coffee cups.
This time, I seemed to be the principal target. At one point two of them flew into my open collar and started moving rapidly, either from conviction or instinct, in a southerly direction. At this moment of crisis, Life gives you only two options: You can abruptly rip off your shirt and fling it onto the ground, or you can reach in and pull out the intruders. I chose a third option, which was to stand up, scream like a 10-year-old, and then turn around in circles flailing my arms in an outward direction. This provided no immediate solution to the problem, but it seemed like the right thing to do.
Fortunately, I was saved by a fateful decision my mother made decades ago, shortly after I had been potty trained (a proud moment for any 12-year-old). Choosing between briefs and boxers for her young son, she went with briefs, the only style that comes with an elastic waistband specifically designed to protect against invasive stink bugs. The bugs were stopped cold by this unyielding barrier—the Great Wall of China of men's undergarments—and had no recourse but to move in a lateral direction. This gave me time to reach in and fling them outside, in the general direction of Sojourners' editor Jim Rice, who earlier in the day had established himself as the merciless terminator of stink bugs.
LIKE MY favorite bathroom cleaner, Soap Scum Remover, stink bugs are accurately, if simply, named. Because of their foul secretions, they have no natural enemies, except for one: my boss's right slipper, size 12, which he wielded no fewer than 400 times, calling out the count with each strike. Disturbing as it was to witness a respected magazine editor gleefully deploying a weapon of mass destruction, a grateful staff looked on in awe. He was our champion, our hero, who will forever be revered by a title commending his bravery and valor: Mr. Squashy.
AND SPEAKING of bugs, I probably can't blame climate change for the cockroach living inside my office keyboard. I see it out of the corner of my eye, flitting from one row of keys to another. I try to drive it out by stabbing forcefully at the keys with a sandwich or other food items, but it's a tenacious little insect. I can't imagine how it survives in there.
Ed Spivey Jr. is art director of Sojourners.
Image: Stink bug, Christine Wainwright / Shutterstock.com