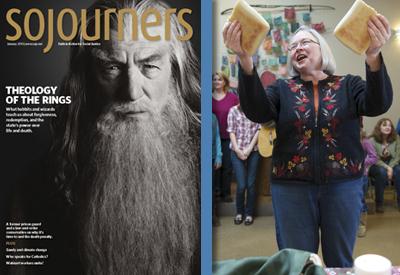 "WE DON'T WORK toward justice; we bring about justice through systemic change," says Rev. Cindy Weber, with a fierce and loving smile, when asked how her congregation, Jeff Street Baptist Community at Liberty, seeks justice through reaching out to the community. There is no pride or bravado in her statement, but a firmness that comes from more than 20 years of pastoring a small, community church that actively helps bring about God's peace on earth.
Jeff Street, located in Louisville, Ky., has an active membership of approximately 100 people—a David-sized congregation compared to many mainline or mega-churches. However, the creativity, dedication, and passion of the church's members, manifested in hospitality programs for and with the homeless, have made a giant-sized impact on local economic justice issues. And the congregation didn't stop there; as part of a coalition of area churches, Citizens of Louisville Organized and United Together (CLOUT), the church has made an impression with policy work and community organizing on the state level as well. Jeff Street's commitment to empower poor people has even reached internationally: Members have invested in Oikocredit micro-lending programs to the tune of $180,000.
"We are a church that knows the difference between justice and charity, and also between charity and hospitality," says Weber.
Jeff Street, as members call it, started as the Jefferson Street Baptist Chapel, a worship community that had been meeting for decades at Louisville's Jefferson Street Baptist Center, an outreach to homeless people that is a mission of the Southern Baptist-affiliated Long Run Baptist Association. But when the congregation's head pastor left in 1987 and it promoted Rev. Weber from associate to interim pastor, the move touched off a four-year struggle with the Center's parent organization. The Long Run Baptist Association refused to recognize Weber's leadership because she is a woman—even though, at the time, she was also serving as director of the center. In 1991, the year the congregation installed Weber as permanent pastor, it was told to leave the center. The church kept the name "Jeff Street"—the shortened moniker by which Jefferson Street Baptist Center was known in the nearby Clarksdale housing project and environs—and moved a couple blocks south, into a rehabbed former machine shop on Liberty Street.
Its new site is about four blocks from the banks of the Ohio River on the edge of Louisville's business district. Dotting the immediate horizon are empty lots where the now-demolished Clarksdale housing project stood; new facades built by Hope VI, a federal program to revitalize "severely distressed" housing projects; the mixed-income housing project Liberty Green; and a few construction sites punctuated by shiny signs advertising "luxury lofts."
"AFTER THE MOVE," says Weber, "we didn't want to just do social service." Instead, many of the church's ministries address society's and individuals' needs by asking the question, "How can we all be on equal ground?"
Sunday morning services at Jeff Street, as in many churches, begin with a gathering time. People—black and white; teenagers, children, and parents, young and middle-aged; persons in wheelchairs; men and women who are homeless, and others who know where they will sleep that night—all come together. Everyone dresses down "so everyone feels welcome," says Kevin Borders, who has been a member since 1991. He describes the church as a theological mix of Southern Baptist refugees, first-time churchgoers, Catholics, Anabaptists, and Presbyterians.
On a recent Sunday the sermon themes, announcements, and sharing of joys and concerns radiated from the personal to the communal to the global. A woman prayed for a sick coworker. Another was thankful for her niece's musical gifts. Many looked forward to the annual community retreat and talent show. One reminded the group of the next Urban Goatwalker Coffeehouse, where the community welcomes local homeless men and women to join neighborhood residents and church members for coffee and to listen to or participate in entertainment. The day's bulletin listed the weekday hospitality program for the homeless, which offers coffee, newspapers, and company four hours a morning, five days a week.
Many ministries of Jeff Street have themes in common: The idea of creating equality within all sectors of life, a person-to-person approach to justice work, and a focus on economics. Such themes run, for example, through the church's work with CLOUT, the Louisville community-organizing coalition, whose 19 participant groups have a collective 16,000 members. As part of the coalition, Jeff Street has successfully advocated to expand state-sponsored healthcare benefits for children in Kentucky and is currently lobbying for limits on predatory lenders. Affordable housing is also on the agenda.
"The power CLOUT has to make systemic change is [rooted in] people coming together to act in a unified and strategic way," says Chris Kolb, co-president of the group. One of CLOUT's key strategies is to hold an annual Nehemiah Action Assembly, where decision-makers are invited to make commitments on the group's issues before an audience of around 1,600 people from CLOUT member groups. The organization has challenged each member congregation, by 2015, to send as many people to the Nehemiah Assembly as attend church on an average Sunday—but, Kolb explains, Jeff Street achieved this goal three years early: "They are a real model" to other congregations.
CAN A CHURCH so well versed in community organizing and local outreach be surprised by a new way of seeking justice? That's where that $180,000 in investments comes into the story.
The seed was planted by church members Andy Loving and Susan Taylor, a married couple who are both financial planners; his background is in socially responsible investing and hers in economics. In 2004, they brought to the community the idea of pooling their money to invest in Oikocredit, an organization that provides microloans as small as $29 to individuals and cooperatives in 29 countries. Oikocredit was started in the Netherlands in the 1970s by the World Council of Churches as an international bank for the poor. According to Loving, 90 percent of microfinance loans go to women.
Loving and Taylor brought the church "a very simple way of making a difference," says Borders. But how did Jeff Street, which in Loving's words "thought of ourselves as a poor church," pool a six-figure investment? Not by fundraisers or external donations, but through what Loving describes as looking for "surplus capital." The idea is to look at money you have access to but are not spending and don't require for immediate needs.
At the time, the minimum investment in Oikocredit, according to Loving, was $1,000, which was not feasible for some church members as individuals. (Recently, Oikocredit has begun offering opportunities to invest as little as $20 at a time.) For the group investment, some church members took hundreds of dollars from savings. Many gave as little as $5 or $25. Youth in the church took money, saved from summer jobs or birthday gifts, from their own pockets and invested it in the fund. "We asked ourselves: 'Who has that? Not us.' But we do," says Borders. "The dollars you are saving for a house or retirement can be put to work for change."
That it's a socially progressive investing opportunity connects in many ways with Jeff Street's collective compassion and desire for social change. For investors, the fund offers what it describes as "modest financial returns," which Loving says is on average a 2 percent return per year. "Providing communities capital instead of aid is more empowering, enriching, engaging, and transforming," says Loving, because it's "an exchange among equals."
Within weeks, the congregation had accrued $25,000 to invest in international microlending programs. In addition, Loving assisted church members who were interested in diverting money from already established retirement or investment funds toward Oikocredit. Members who had $1,000 or more to contribute set up accounts in their names. Participants are able to withdraw their investment when they need it, just as youth members did recently for college expenses, says Loving, but for a few years those dollars were able to be put to good use. In less than two years, a small group of less than 100 church members changed the way they look at their own money and as a whole invested almost $200,000 in microloan programs. Eight years later, the fund is still active. It was Jeff Street's effort "to begin to see our money as a community rather than only as individuals," says Susan Taylor.
Now Jeff Street is discerning a move for the church's own operational bank accounts. It currently uses a traditional commercial bank in Louisville, but is considering changing to Self-Help Credit Union in North Carolina (see sidebar). "The key is [how] to make deposits and withdrawals in person" from a couple of states away, explains Loving. This obstacle looks surmountable, as Self-Help participates in the Credit Union Service Centers network; members can deposit or withdraw funds at any participating credit union.
Loving thinks that when Jeff Street's members began to invest in Oikocredit, a couple of things occurred to them: "People realized they are not as poor as they thought they were," he says. Additionally, the epiphany within the group was "how many reserves we had and could use as a vehicle for the body of Christ."
As Loving puts it, "If our little inner-city church [could raise this much], how much money is there in other churches?"
Beth Newberry, a writer living in Louisville, Ky., is co-publisher of The HillVille, an online magazine about urban Appalachia, and a former Sojourners intern. She was briefly an investment client of Susan Taylor in 2010.