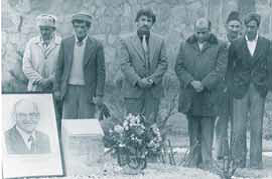 WHEN AMBASSADOR Chris Stevens was killed in Benghazi, Libya, in September, it was jarring for me to hear NPR refer to the last U.S. ambassador to be slain: my father, Adolph Dubs. He was kidnapped in 1979 in Kabul, Afghanistan, by Afghan extremists whose motives were never learned, and killed hours later in a botched armed response by the Soviet-allied Afghan government, even as U.S. diplomats pleaded for more time to negotiate.
My dad was 58, a career diplomat. After serving in the Navy during World War II, he had entered the foreign service, compelled by a deep desire to learn to use diplomacy to blunt the forces of fear and hate at the root of violent conflict. As a young man, he had considered the Lutheran ministry; he saw his work as a diplomat as a pragmatic way to build relationships, even with those whose histories and beliefs seemed alien to our own. People sensed this about him. Whether meeting with the Soviets at the height of the Cold War, with Serbian farmers in the former Yugoslavia, or, finally, with Afghans in the uncertain and perilous months before the Soviet invasion, he was universally respected for his integrity and commitment, and even loved for his genuine humanity and humor.
Among the many expressions of sympathy I received following his death, one photo is particularly meaningful. It's not the one depicting U.S. Secretary of State Cyrus Vance and other dignitaries receiving my father's casket at Andrews Air Force Base—rather, it's an image (above) taken in the courtyard of the embassy in Kabul. It shows the Afghan men who knew him, who had lived and worked around him during his time there. They are grouped around a memorial they had made, with his picture propped on it. These are the people who considered him a friend, understood what he was about in their country, and felt his loss, deeply and personally.
I read recently that, a day after Stevens was killed, a similar picture went around on Twitter. It showed people in Benghazi holding a sign that read simply, "Chris Stevens was a friend to all Libyans."
Since I heard that news report on Sept. 12, much rhetoric has flown about—accusations, blame, and political posturing. In all the noise, something has been forgotten. While the situations in Afghanistan 33 years ago and in Libya today are very different, what is undeniably the same is that two good men with a passion for diplomacy, driven by a desire to connect in real ways with the people of the countries where they served, died at the hands of those who used fear and violence to obtain whatever murky goals they have.
After my father's death, the U.S. moved away from the very programs of international development that he had championed for Afghanistan. After Stevens was killed, Libya scholar and development consultant Ethan Chorin reflected with emotion, in a New York Times commentary, about how Stevens had refused to be "pessimistic about or indifferent to Libya's growing pains," unlike many Western officials. Chorin warned that, in the wake of Steven's death, the West would face a "strong temptation ... to respond by disengaging, retreating, or focusing only on the extirpation of radical elements."
It seems to me that a truer way to honor Ambassador Stevens would be to deepen our commitment to the ways of global friendship and real diplomacy, for which he and my dad gave their lives.
Lindsay McLaughlin lives and works at Rolling Ridge Study Retreat Community near Harpers Ferry, West Virginia.