I am concerned with an implicit statement made by Amy Sullivan (in "The Politics of Piety," November 2004) regarding the nature of God. It came in the form of a quote by a White House aide. The aide questioned certain people's ability to hear from God, because "God seems like a pretty busy guy to me." Sullivan used this quote to diminish the idea that people can actually hear from God. Has God's voice been silenced to our generation? I am in no way giving the divine "stamp of approval" on what every person assumes they hear as the voice of God. However, to mock some fringe leaders of the Religious Right and their ability to hear from God (or "talk" to God, as Sullivan puts it - which most of us call "praying") is to diminish in many moderate readers' minds that we do actually have access to the presence and voice of the Almighty here today.
John Nash
Columbus, Ohio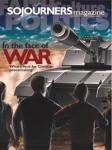 This appears in the January 2005 issue of Sojourners
Got something to say about what you're reading? We value your feedback!