WHERE MUST we start as Christians and faithful churches after such a devastating election that brings the most dangerous man to the White House that we have seen in our lifetimes?
First, many people are terribly afraid, because they are from groups who were attacked and targeted in the campaign by the new president-elect. We must take those attacks seriously by reaching out in solidarity and protection to those who are now most vulnerable—undocumented immigrants, black and brown Americans, Muslims, women of all races, and LGBTQ folks. Members of these groups have already experienced ugly incidents of hate and violence, including increased harassment, vandalism, and even assaults on children and others in the wake of the election results. If I read my scriptures right, those are the people that Christians and other people of good conscience should now turn to in solidarity and support. That is what Christians are supposed to do: Support the poor, the vulnerable, and those under attack.
Second, we must make it very clear that honest and prophetic truth-telling about race in America will be needed as never before in our time, especially from white Christians. The fact that a majority of white Americans, at every level of class and gender, voted for a candidate who ran on racial and gender bigotry is even more distressing when we see that a majority of white Christians voted just like other white voters. And it is revealing that those who say this election was not about race are white, while Christians of color see race at the center of it. Repentance by white Christians in America will require the replacement of the white identity politics that dominated this election with faith identity politics.
One of the saddest aspects of the election for me is the fact that most white evangelicals voted for a man whose life has embodied the most sinful and shameful worship of money, sex, and power and who represents the very worst of what American culture has become.
And it was a real tragedy that we did not hear from many of America's most famous white megachurch pastors in this election. Religious Right leaders, who supported Trump despite all their previously expressed religious values, showed incredible hypocrisy and once and for all revealed themselves as political operatives more than religious leaders. They should be understood simply as political operatives for the Far Right and not as those who can speak for the faith community or, especially, for people of color in the body of Christ.
I have received countless calls since Election Day from people who feel very vulnerable. Parents of young black and brown children are afraid for their kids and struggle with what to tell them. African-American ministers fear what emboldened white police officers might do to their young people if they no longer have to worry about the scrutiny of the Justice Department, the president, or anyone else who might hold them accountable.
More than 700,000 young Latino/a students and workers, who were protected from deportation by President Obama's executive orders, know that these could be overturned with the stroke of a pen. Latino pastors are dealing with the millions of undocumented families who are terrified of losing family members and are going underground. And many of our Muslim neighbors are wondering whether this can be a country for them anymore.
Practical acts of solidarity
As we move forward into the Trump administration, our acts of solidarity must be very practical. Let me call for two actions in support of those most under attack. First, I believe churches may need to open themselves up as sanctuaries, taking in the undocumented immigrants whom Donald Trump has pledged to deport. If Trump follows through on the promises he has made to deport more than 11 million people, I believe massive civil disobedience may be called for. We have the capacity and the opportunity to open up our churches, seminaries, and schools to "the strangers" that God asked us to protect, and to force immigration enforcement police to arrest immigrants inside our churches instead of taking them alone at home.
Second, if the federal government and its agencies will not protect young people of color from the violence of racial profiling, then religious communities, denominational leaders, local pastors, and congregations will need to do so. It is time to call for meetings—both for dialogue and accountability—with local sheriffs and law enforcement officials. Let's take them the report of The President's Task Force on 21st Century Policing, ask them to read it, and promise to come back to discuss how to implement its practical and sensible recommendations.
If the appropriate government officials at the federal level under the Trump administration will not hold law enforcement accountable for obeying the law with all their citizens of every color, then ecumenical and interfaith agencies of our cities and towns will need to take up that role. We will need to tell officials that if they don't hold their officers accountable, then we in our local faith communities will.
And Christians, in particular, will need to defend and protect Muslims in America, who are our fellow citizens and people of faith, as well as guard against an upsurge in anti-Semitism. Religious liberty means nothing unless it is extended to all religions.
Going deeper into our faith
All this will be risky and costly. Thus it will be important that our first call is to go deeper into our faith, to find the courage to act, to stand alongside those who are under attack, and to confront the principalities and powers.
Perhaps the most encouraging calls to me since the election have come from young people of all ethnicities, many whom I know well and have mentored. Several have said without prompting, "I just wanted you to know that I am in for whatever this will require of us." Thanks be to God.
At Sojourners, we will be in for whatever it takes to stand with our brothers and sisters under attack, to offer our resistance to the racial bigotry and misogyny that the new president-elect ran on, to call churches away from that bigotry and back to the miracle of the multiethnic body of Christ that we celebrate around the world, to nurture our own children in a faith that unites and doesn't divide, and to recommit ourselves to love, care for, and sustain each other as we embark on a new moment in our mission.
Going forward, there will be a great need for healing. For that to be possible, we must listen to each other more deeply than ever. Our congregations must become safe spaces for that kind of listening across many lines.
In the wake of this election, the role of faith communities is imperative—for prayer, discernment, speaking and standing up, solidarity and support for those most fearful right now, and for speaking truth to power. Our call and our ministry, in such a time as this, will be for faith, resistance, and healing.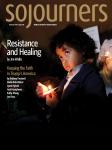 This appears in the January 2017 issue of Sojourners
Got something to say about what you're reading? We value your feedback!