ANY REASONABLE person should admit that Bob Dylan's 54 years as a great American artist deserve some kind of monumental recognition, maybe even a real monument somewhere. But the monumental recognition Dylan received in October from the Nobel Prize committee for literature has generated plenty of argument, much of it among reasonable people. Scottish novelist Irvine Welsh had the best one-liner. "This," he said, "is an ill-conceived nostalgia award wrenched from the rancid prostates of senile, gibbering hippies."
But, generational animosities aside, the most cogent complaint about the Dylan Nobel goes like this: "Sure, most of his music is great. But is it literature?"
And of course it's not. At least not if literature is limited to its dictionary definition as the stuff composed to be read from a page (or, today, a screen). However, in announcing Dylan's prize, the Nobel committee dodged that whole question. They didn't call him a "poet." Instead, they honored his "new poetic expressions within the great American song tradition."
I'm not sure exactly what the Nobel committee meant by that cryptic utterance, but it hits pretty close to the heart of Dylan's achievement. At his best Dylan has brought the sensibility, philosophical stance, and rough-hewn sound of what Greil Marcus calls "the old, weird America" into our postmodern era not as archaeological artifact, but as a living tradition.
The voice of the old, weird America, echoing through Dylan's songs, is the voice of the medicine-show snake oil peddlers and the Appalachian snake-handlers. It's the voice of the slave, or his recent descendant, for whom the rising waters of the Mississippi were a metaphor for his entire life. It is the dirt farmer driven mad by the wails of his hungry children. The Southern poor white committing racist violence as a pawn in the rich man's game. It's the Sunday morning believer and the Saturday night cynic. The oral culture of Dylan's America was raw, unmediated, life on life's terms. And that's the voice we can still hear in the best of his songs.
Read the Full Article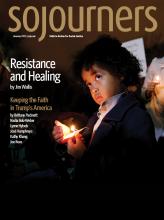 ​You've reached the end of our free magazine preview. For full digital access to Sojourners articles for as little as $3.95, please subscribe now. Your subscription allows us to pay authors fairly for their terrific work!
Already a subscriber?
Login