A Plateful of Good Stuff
"Game Changer?" by Rose Marie Berger in the December 2016 issue really challenges me as a Catholic. We are called to be a peace church. We are disciples of a nonviolent redeemer and liberator. I want to be nonviolent. It would mean that I have to love nonviolently. I cannot call anyone names. I should love the members of the other political party and work for unity. I should be a listener. I should advise military people to be conscientious objectors in violent affairs, and maybe more than that. I will love the veterans, as I presume they did what they did according to their conscience. I have a plateful of good stuff to do. Help me, dear Lord.
Rev. Anthony Kroll
Sauk Rapids, Minnesota
Those Who Have Ears ...
In the days following the ugliest election in my life (I was born in 1945), I have seen few, if any, commentaries on how this election impacted the children of America. Our kids hear our fears and anxieties, as well as what they hear on TV or radio, but they are not able to deal with and process those fears as are adults.
What is our Christian responsibility to help our children deal with and overcome the fear and anger they feel when they hear the president-elect denigrate minority groups and promote violence against those who disagree? This is truly a teachable moment in every house of worship, and not just for adults. Our kids are suffering, and we cannot let the words of a narcissistic bigot go unchallenged. I agree with everything Jim Wallis said ("Ministers of Reconciliation," December 2016), but I urge us not to forget the children.
Bill Turney
Houston, Texas
Ministers of Inspiration?
I was thrilled to receive my first issue of Sojourners magazine and find Jim Wallis's article titled "Ministers of Reconciliation." I am grateful for the reassuring inspiration I derived from his words.
Rev. Dale Morris Lee
Denver, Colorado
A Heavy Hand
In your November 2016 issue, David Gushee writes of Americans yelling at each other about abortion and our polarization on the subject ("The Abortion Impasse"). But he shows his own polarization with the sentence, "Having actually held dead 18-week fetuses in my hands ... I think it is indeed a travesty that abortion is permitted in non-emergency circumstances as late as that." I ask him: Have you ever held the hand of an 18-year-old girl dying of sepsis from a backstreet illegal abortion? I have. When abortion is not legal or the financial cost is too high, the poor seek out the unskilled—which can take weeks—while the wealthy go to other countries. Until we have a country that cares for and about all its citizens by lowering our high infant mortality rate and doing away with guns, wars, death penalties, and cop shootings, why should anyone worry about abortions? I think the answer is: It is a way to subjugate women. As Gloria Steinem says: "If men could get pregnant, abortion would be a sacrament."
Elizabeth Dunbar
South Hamilton, Massachusetts
Read the Full Article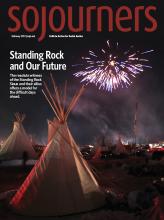 ​You've reached the end of our free magazine preview. For full digital access to Sojourners articles for as little as $3.95, please subscribe now. Your subscription allows us to pay authors fairly for their terrific work!
Already a subscriber?
Login