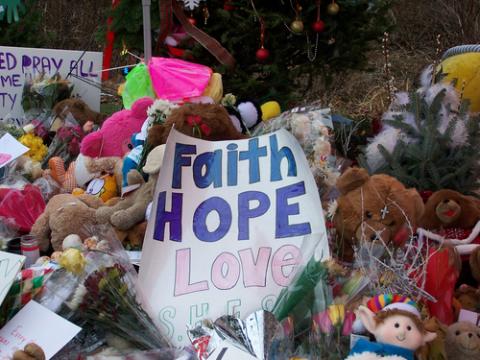 WILL THE MASSACRE at Sandy Hook Elementary School touch the nation's soul or just make headlines for a short time? I think that will be up to us who are parents—to respond as parents.
The brutal shooting of 20 6- and 7-year-old schoolchildren in their own classrooms touches all of us, and as the father of two young boys I'm especially struck by the way it touches parents: from the heartbreak of the parents in Newtown to the tears in the eyes of Barack Obama as he responded—not just as the president but also as the father of two daughters—to the faces of the first responders and reporters who are parents. I have felt the pain and seen the look on the face of every parent I have talked with since this horrendous event occurred. Virtually every mother and father in America has turned their grieving gaze on their own children, realizing how easily this could have happened to them.
The day after the Connecticut massacre, my wife, Joy, and I went to our son Jack's basketball game. The kids on the court were the same ages as the children who were killed. I kept looking at them one by one, feeling how fragile their lives are.
Our first response to what happened in Newtown must be toward our own children: To be so thankful for the gift and grace they are to us. To be ever more conscious of them and what they need from us. To honor the grief of those mothers and fathers in Connecticut who have so painfully lost their children, we must love and attend to ours in an even deeper way.
But we really can't honestly just tell our children that they are safe. This year, children have been randomly shot in their schools, in movie theaters, at malls, and on street corners across the nation—places that any of our kids could be at any time. Our children are not safe.
This crisis will not be solved until we begin a national conversation about what will keep our children safe in this country, at least more safe than they are today.
IN THE WAKE of the tragedy, the nation is grieving. Our church was packed on the next Sunday, as were many congregations across the country. Grieving has brought us together.
But what comes after the grief? What must we as a nation learn from this? What must we change, both personally and in the broader society? How can we make our children safer? These are the questions we must address.
Will we just become numb to horrendous moments like this? Or will this tragedy cause us to ask the hard questions about why these things are happening, and to find the solutions it will take to stop them?
The nation must finally decide what we are going to do about the semi-automatic and automatic weapons that are now pervasive in our country—weapons whose only purpose is to kill large numbers of people. Let's be honest about the difference between these weapons and those needed for hunting, sport, or even self-defense.
Since the Newtown shooting I have learned some stunning facts. In the four counties around the Connecticut school, there are 400 gun dealers. There are more gun dealers now in America than there are McDonald's restaurants. On Black Friday alone, there were 150,000 attempted gun purchases; the FBI fielded 2 million gun-purchase requests in November. And most astounding, there are 310 million people in America and 280 million guns. Guns—and concealed weapons in particular—are being allowed in more and more public places. That is the direction that the gun business and gun lobby have taken us—and the gun business and lobby are now the same thing. Is that the kind of society we want to live in?
BUT IT'S NOT just gun idolatry. We must also do a better job of detecting and treating the kind of mental health problems that are repeatedly leading to such violence. How can we better avoid the deadly connections between mental illness and guns of mass destruction? How do we find, treat, and monitor individuals with such issues, and support their families, in order to protect them and others?
And finally, we need an honest conversation about our growing culture of violence, about the "entertainment" and "products" that project the worst expressions of violence as solutions to problems or as "fun." How do we raise our children in a culture infected with such deep habits of violence? How willing are we to confront those habits and addictions?
One thing I do know: Washington will not fix these problems. It will have to come from outside of Washington. It will likely come from putting our children first, and not politics. Our children must be our first response to this, and they must inspire a response that lasts. And it likely will have to come from us—as their parents.
Jim Wallis is editor-in-chief of Sojourners. A version of this appeared on the God's Politics blog.
Image: Sandy Hook memorial, Gina Jacobs / Shutterstock.com