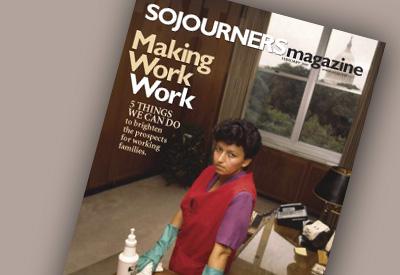 The 2006 election, in which voters approved minimum wage increases in every state that put the issue on the ballot, is good news for all who are committed to advancing the cause of a just society. These victories on behalf of low-wage working people and families in Ohio, Montana, Missouri, Colorado, Arizona, and Nevada are part of a groundswell that had already led to minimum wage hikes in states as diverse as Arkansas, California, Massachusetts, Michigan, North Carolina, Pennsylvania, and West Virginia.
These initiatives brought people together across all lines—faith-based, community-based, labor, business—who believe that it is immoral that workers who care for children, the ill, and the elderly must struggle to care for their own families; who believe that a job should keep you out of poverty, not keep you in it.
The victories achieved are modest, but they will make a major difference in the lives of struggling workers and families. They also provide impetus for action at the federal level in the early days of the 110th Congress and, in the long term, for a universal living wage.
Although it is too early to know exactly how many people will benefit from the state minimum wage increases, we do have some preliminary data. The Center for American Progress, for example, released a report on November 9 showing that in Arizona "[a]n estimated total of 345,000 workers—or 13 percent of Arizona's workforce—will receive wage increases. Because these workers live, on average, in families with two other people, over 1 million people—or 17 percent of Arizona's total population—will receive a direct benefit." An earlier report from CAP and Policy Matters Ohio determined that the wage increase passed in Ohio "will immediately give much-needed assistance to 700,000 workers."
Some have argued that raising the minimum wage hurts the economy and leads to fewer jobs for low-wage working people. Experience proves otherwise, as demonstrated by the performance of the economy, including job growth, following the 1997 federal raise and the performance of states that have raised their minimum wages above the federal minimum. In fact, states with higher minimum wages have shown stronger employment trends than other states, including in retail and small businesses. The following statement by Oregon Labor Commissioner Dan Gardner is particularly telling: "Overall most low wage workers pump every dollar of their paychecks directly into the local economy by spending their money in their neighborhood stores, local pharmacies, and corner markets. When the minimum wage increases, local economies benefit from the increased purchasing power." With a scheduled cost-of-living increase, Oregon's minimum wage for 2007 will be $7.80.
Just days after the minimum wage victories on November 7, the nation celebrated the groundbreaking for the Martin Luther King Jr. National Memorial. That historic occasion reminded many of us that a key demand of the 1963 March on Washington, where Dr. King delivered his "I Have a Dream" address, was for "a national minimum wage act that will give all Americans a decent standard of living." It is long past time to fulfill that ennobling vision.

Paul H. Sherry is coordinator of the anti-poverty program of the National Council of Churches, national coordinator of the Let Justice Roll Living Wage Campaign (www.letjusticeroll.org), and co-author of the report "A Just Minimum Wage: Good for Workers, Business, and Our Future."