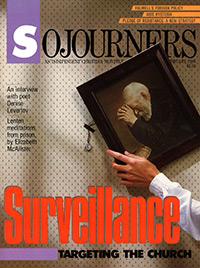 Magazine
Sojourners Magazine: February 1986
Subscribe to Sojourners for as little as $3.95!
Cover Story
Detroit peacemakers under watch.
Examining Jesus' response to surveillance.
The far-reaching tentacles of the U.S. surveillance network.
Feature
An interview with Denise Levertov.
Like Peter, we are called to relinquish control and seek solidarity with the marginalized.
Columns
Government surveillance of faith-based groups in the mid-1980s.
Finding the nuclear train.
Celebrating anti-apartheid activism.