THREE RECENT FILMS portray heroism as ordinary people behaving with conviction under extraordinary circumstances. In Sully, an airline pilot lands safely in the Hudson River; in Snowden, a man speaks truth to power when he realizes it has been lying to him; and in the three-minute short We're the Superhumans, British Paralympians and others with disabilities dance, jump, run, and fly to a big-band soundtrack. They are changing the world by challenging dominant cultural images of "able bodies," "normal," and "strong."
Musician and activist David LaMotte has a theory about effective activism: An individual hero single-handedly overturning monstrous injustice isn't a harmless cliché trotted out in TV or film dramatizations. Projecting near-supernatural power on such people is not only inaccurate, it denies them an even greater power: to truly influence others. If Rosa Parks or Martin Luther King Jr. were merely magicians, how can any of us respond other than applaud their tricks and despair of our capacity to challenge the oppression we discern in our own times? In World-Changing 101 (a book whose title is both serious and ironic), LaMotte suggests that this harmful fantasy ignores the strategic preparation and community support that nurture effective activism. Montgomery bus boycott handbills were printed by a group led by a teacher, Jo Ann Robinson; she had worked for years as a civil rights activist, including preparing for such a boycott. Printing handbills, sharing cars, telling hopeful stories, serving lemonade to tired marchers—all were vital parts of the body of change. Rosa Parks sat down alone, but she got up with many.
The cinematic heroes who don't look like real-life activists avoid community, tending to act alone (Batman at least has a butler). Instead of painstaking planning (trial and error too), they spring into action or reaction when the bad guy is already halfway to victory (the villain often confidently explaining his dastardly plan just before it is foiled). They're typically not around for the work of integrating the aftermath.
But Sully sees heroism as doing what you are trained to do—repudiating the notion that an emergency landing is a "miracle" rather than an act of human skill. Snowden tells how a whistleblower enlisted distinguished journalists so his revelations could be ethically told. And in the most glorious image of the year, We're the Superhumans parallels one man in a flying wheelchair with another cleaning his teeth. Just getting out of bed can be heroic
Read the Full Article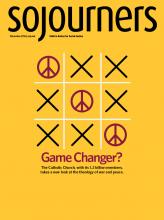 ​You've reached the end of our free magazine preview. For full digital access to Sojourners articles for as little as $3.95, please subscribe now. Your subscription allows us to pay authors fairly for their terrific work!
Already a subscriber?
Login