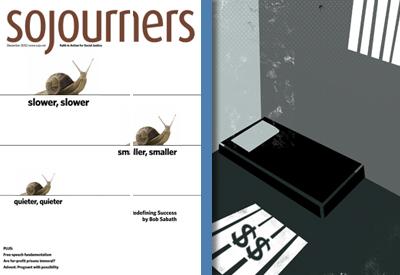 AS LARRY WATSON arrived by charter bus at the Corrections Corporation of America in Nashville, Tenn., apprehension pulsed through his body. An ex-offender, Watson had been at prison facilities before, but never for this reason—and never willingly.
Watson had been incarcerated three different times—in 1978, 1983, and 1990—for distribution of drugs. The last time, he was sentenced to up-to-30 years in jail. He was released on Jan. 14, 1993, after serving 36 months.
Now he found himself on a very different path. Watson and 17 others, mostly ex-offenders, had trekked nearly 700 miles in May 2010 on a pilgrimage from Washington, D.C., to Nashville. As they pulled into the grandiose Corrections Corporation of America (CCA) headquarters, home to the largest private prison company in the United States, a swarm of security officials greeted them. Watson and his fellow sojourners became increasingly mindful of the spirit in which they journeyed.
Their plan was creatively simple: Purchase a share of stock in the Corrections Corporation of America, the behemoth corporation that owned the private prisons where some of the group had been incarcerated. Attend a CCA shareholders' meeting. Then, as stockholders, tell their personal stories as a way of witnessing to the "spiritual crisis" occurring within the prison industry, while also building relationships with key CCA personnel.
In essence, using their experience from the inside, members of the group planned to tell CCA how to do its job better.
The Corrections Corporation of America board knew that Watson and his companions planned to attend the meeting. The board deployed the armed security guards to greet them. "They went with us step by step into the CCA building," said Watson. On the way inside, he considered his physical surroundings. "It's a very nice property. It looks like money."
Near the end of the shareholders' meeting, the board allowed comments from the floor. Larry Watson stood to speak:
Since my release from jail, I have been very fortunate. I have a loving family. I have decent housing. And I have been supported in my recovery from addiction ... [Yet] across the country, there are millions of ex-offenders who are struggling ... Our group is called Strength to Love, and we have been studying the thought and method of Dr. King and the civil rights movement. We believe, like King did, that love is more powerful than confrontation ... We are here to ask whether the CCA will work with us to create a new spirit and a new hope for imprisoned people and for all people in our country.
Watson added that the group was prepared to offer the Corrections Corporation of America leadership toward building Dr. King's "beloved community." CCA board members thanked Watson for his comments. And that was it.
THIS IS THE spirit in which Strength to Love has visited CCA board meetings for three consecutive summers now, starting with that first trip in 2010. Watson and his comrades could have carried picket signs or worn orange jumpsuits. Instead, Strength to Love invited CCA into a partnership to change an unjust system.
Named after the title of one of Martin Luther King Jr.'s sermon collections, Strength to Love has been meeting since May 2009 and includes more than just those who have traveled to Nashville. The group has no staff and a very modest budget. It is an outward mission of the Church of Jesus Christ, Right Now and is inspired by the Washington, D.C.-based Church of the Saviour, an ecumenical Christian church founded in the early 1940s.
"Our purpose is to take away the stigma of ex-offenders," Watson said, during an interview in Washington, D.C.
People returning from incarceration, known by some as "returning citizens," are frequently denied housing, jobs, health care, financial services, and more. Watson said Strength to Love seeks to reimagine the incarceration system, end the injustices of incarceration, and ease re-entry into civil society. The group's call emerges from the biblical book of Exodus. Through Moses, who confronted Pharaoh and his empire, God freed the Hebrew people from slavery. The people of Strength to Love believe God is sending them to a modern-day Pharaoh to insist, "Let our people go."

THE UNITED STATES has the highest documented incarceration rate in the world. Nearly 2.3 million Americans are currently in prison or jail in the U.S.—a 500 percent increase over the past 30 years, according to data from the Sentencing Project. As the incarcerated population grows, so does the private prison industry. CCA owns or operates 66 detention centers in the U.S., making it the country's leading private prison corporation. In 2011, CCA recorded $1.7 billion in total revenue. According to an article by Suevon Lee at ProPublica, CCA has also spent $17.4 million on lobbying over the past 10 years and made $1.9 million in political contributions from 2003 to 2012.
Though U.S. prisons have long outsourced certain aspects of their operations—such as dining or laundry services or medical care—to private contractors, until the 1980s local, state, or federal governments were the sole owners and operators. President Nixon was the first to link the Drug Enforcement Administration with federal law enforcement agencies, significantly shifting the country's view of illegal drugs from social ills to criminal acts, which increased incarceration rates. But it was the Reagan administration that ushered in the "private prison gold rush." Reagan's highly publicized draconian response to crack cocaine in the 1980s had a disproportionate impact on African-American communities. In the decades since, the prison population skyrocketed, with most of the conviction increase involving drug violations.
In 1984, the Corrections Corporation of America and Hamilton County, Tenn., signed the first county-level private prison contract; the U.S. Immigration and Naturalization Service also signed a contract with CCA for private detention services. These marked the first time that any level of government in the U.S. had contracted out the complete operation of a jail to a private operator. Thus, the country's modern private prison industry was born. Between 1990 and 2009, the number of prisoners in private prisons increased by approximately 1,600 percent.
Companies such as CCA and the GEO Group (the country's second-largest private prison company) profit from public policies that lock up more people. In CCA's 2010 annual report filed with the Securities and Exchange Commission, it said:
The demand for our facilities and services could be adversely affected by the relaxation of enforcement efforts, leniency in conviction or parole standards and sentencing practices, or through the decriminalization of certain activities that are currently proscribed by our criminal laws. For instance, any changes with respect to drugs and controlled substances or illegal immigration could affect the number of persons arrested, convicted, and sentenced, thereby potentially reducing demand for correctional facilities to house them.

Private prison proponents say their facilities are efficiently run and can save governments money. However, studies show that private prisons are not necessarily more cost-effective and may even be more expensive. Some critics say cost savings come at the expense of security, rehabilitation efforts, and quality-of-life issues. State-funded studies show that private prisons keep only lower-cost inmates, aiding their bottom line. Organizations and denominations, including the Presbyterian Church (U.S.A.), the United Methodist Church, and the Catholic bishops of the South have called for a moratorium on construction of private prisons. The United Methodist Church divested almost $1 million from private prisons earlier this year; a spokesperson said, "We believe that profiting from incarceration is contrary to church values."
The Catholic bishops of the South specifically noted their concern about the rise in for-profit prisons "because previous attempts to introduce the profit motive into prisons have failed to respect the fundamental human dignity of every prisoner. Immediately following the abolition of slavery, Southern states developed the Convict Lease System, under which state and local governments contracted out prisoners as laborers on farms, roads, railroads, and mines. Widespread physical abuse and an extraordinary level of death among prisoners led to legislation declaring the commercial exploitation of prisoners illegal."
There is a conflict of interest at the very core of the for-profit prison industry. These companies have no responsibility to rehabilitate inmates and prepare them for re-entry into society. In fact, their profits hinge on high-occupancy prisons. Companies benefit by minimizing costs—such as staff and services—and relying on high rates of recidivism. A report from the University of Utah concluded that "cost savings from privatizing prisons are not guaranteed and appear minimal."

"THIS IS A spiritual crisis," said Strength to Love's Rebecca Stelle. "We have a political, corporate, and church responsibility [to respond]."
That's why Strength to Love has purchased a house in the Anacostia neighborhood of southeast D.C. Ex-offenders too often "don't have anywhere to go," Watson said. "They get in trouble again and go back to jail. We're trying to dent or stop this as much as we can." The house will eventually provide eight ex-offenders with space to live and build community. In a city with 8,000 ex-offenders returning each year, Strength to Love hopes the vision catches on.
"We need 1,000 houses," said Stelle. "We want to partner with other individuals, churches, and groups who will provide a simple place of hospitality for those who are ready to make the necessary changes and choices when they are released from incarceration."
Strength to Love participants have also launched Life Assets, a financial center for the poor that includes micro-loans and financial counseling. Additionally, they have raised $350,000 of the $600,000 necessary to start a credit union.
Ali Edston Kirnon will soon be one of the new members at the house in southeast D.C. An ex-offender—he said he should have "a Ph.D. in dealing with the courts"—Kirnon has visited CCA with Strength to Love on all three trips so far. He said he keeps going back because he wants to share his "first-hand experiences of injustices."
"My mission is to reach down, out, and across and be a brother to another brother or sister in Christ," said Kirnon, "and to show Christ's love and kingdom on earth coming into fruition."
By moving into the Strength to Love house, he seeks to engage the question, "Am I my sibling's keeper?" He said, "I can share my strength and be there for someone else who needs love."

STRENGTH TO LOVE member Gordon Cosby, 95, a founder of the Church of the Saviour, said this mission is important because it engages "people close to the bottom" and can "help them to become those who give leadership to the church of Christ."
"Our system is very poor," said Cosby, noting that people are sometimes incarcerated wrongly, and that Jesus was explicit in naming that we should care for incarcerated people. "Jesus said in the judgment of the nations, 'I was sick and in prison and you did not look after me,'" Cosby said, referencing Matthew 25:43.
By going to CCA board meetings and by taking other public action, Strength to Love seeks to show how the prison industry can better serve individuals and society. The group has repeatedly asked CCA to:
Explore new, innovative ways of lowering rates of recidivism.
Devise new financial incentives for the privatized prison industry.
Prepare inmates for success upon re-entry into society.
Work with community leaders for the common good.
After three years, what's been the most substantive response from CCA? Representatives have taken Strength of Love participants out to eat and given them nominal donations. In return, Strength to Love has sent CCA copies of Martin Luther King Jr.'s book Where Do We Go From Here: Chaos or Community?
"We seek to have a conversation in which all parties are transformed," Stelle said. "We want more than a new set of laws and policies, more than making demands, getting what we want, and then going home. We want, rather, to be born again, to be part of a community that reflects the kingdom, to embrace those who most profoundly hurt us, to be filled and guided by the undefeatable power of divine love."
At the most recent shareholders' meeting at CCA headquarters, last July, Larry Watson asked the board about future dialogue. "I told them that I know in the past we have been cordial, but we have differences, so if you think you can dialogue with us, or if you can't, let us know." CCA's president Damon T. Hininger replied that he wanted to keep the dialogue open.
Watson conceded, "We know their purpose is housing inmates so they can make money," a purpose at odds with Strength to Love's values. Ultimately Strength to Love is seeking more than conversation. It's seeking conversion.

Sheldon C. Good, a former Sojourners media assistant, is a freelance writer living in Washington, D.C.