EVERY FEW YEARS I rediscover a song by R.E.M., "You are the Everything." It juxtaposes despair over the state of things ("Sometimes I feel like I can't even sing / I'm very scared for this world") with deceptively simple memories: A starry sky. The sensations of a random moment long ago. The feel of our own bodies. The sight of someone beloved ("I look at her and I see the beauty / of the light of music").
This song gives me cathartic comfort when the news seems too much to bear. It doesn't erase famine, wars, rumors of wars, a friend's bad pathology report, or my concern over the body politic. But my position shifts; I anchor myself to the beauty of creation, to the miracle of being an embodied soul, to the fragile graces of human relationship, and to the One who brought it all into being. Thin guy wires of memory and spirit steady me against sweeping currents of events, so that I can focus on them, yet not drown.
This tension, between the cares of the world and transcendence, for me typifies Advent. The scriptures recount woe and warnings of the end times. Can we not, in our time, relate to the words of Isaiah about his time, his people? "We have all become like one who is unclean, and all our righteous deeds are like a filthy cloth. We all fade like a leaf, and our iniquities, like the wind, take us away" (Isaiah 64:6). Can we watch YouTube videos of tsunami surges and noncombatants in the crosshairs, crumpling as the bullets hit, and not be able to imagine, at least a little: "But in those days, after that suffering, the sun will be darkened, and the moon will not give its light, and the stars will be falling from heaven, and the powers in the heavens will be shaken" (Mark 13:24-25)? Maybe we relate to why so many generations of believers could long for this, the ultimate clean slate: "the heavens will be set ablaze and dissolved, and the elements will melt with fire" (2 Peter 3:12).
Read the Full Article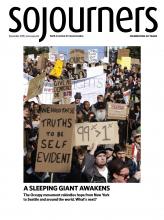 ​You've reached the end of our free magazine preview. For full digital access to Sojourners articles for as little as $2.95, please subscribe now. Your subscription allows us to pay authors fairly for their terrific work!
Already a subscriber?
Login