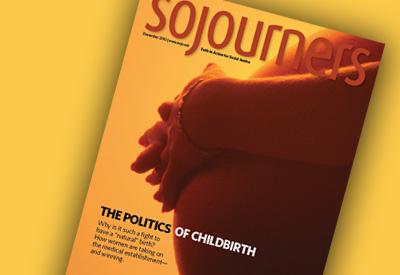 Why am I becoming a doula? My answer comes in the clarity of my calling as a Christian. My faith has brought me to this place where justice meets the delivery room and I play a part -- as a peacemaker, a woman, and a doula. I am not a mother and I have never been pregnant. My conviction to become a doula is something I consider to be a vocational calling from God.
The ancient Greek word is translated in the New Testament as "servant" or "bonds-woman." She is the primary household slave who cares for the female head of the household during childbirth. Today doulas are essentially labor coaches. Unlike midwives, doulas are trained to provide various forms of non-medical support during the childbirth process. A doula's work is one of tender service -- it is to "mother the mother" by offering physical, informational, and emotional support during prenatal care, childbirth, and the postpartum period. In recent years, doulas increasingly have been identified as key to reducing the amount of medical interventions -- such as Caesareans, epidurals, and labor-inducing medications -- needed during childbirth.
My journey began when a co-worker recommended that I meet his sister at a Caribou Coffee. Michele, a certified doula, arrived with a black bag on wheels trailing behind her. Inside were items she'd need if she were called into a birth: an inflatable exercise ball for the mother to rock on; a gardening pad to kneel on while coaching a mother through labor positions on the floor; a heatable tube sock filled with rice to soothe the mother; an eye pillow; lip balm; breastfeeding pamphlets; a tennis ball for massage; and other items.
Studies have shown that when doulas attend a birth, mothers feel more emotionally bonded to their child, are more likely to breast feed, and are more satisfied with their birthing experience overall. Unfortunately, our culture does not always acknowledge evidence-based best practices, especially when special interests are involved. Medical professionals don't always do what's best for the mother and baby. Mothers don't need to be treated. They are not ill -- they're pregnant.
At a birth symposium, I listened to many women tell tales of their births. With tears in their eyes, they shared stories about how they were silenced when they had questions or when they weren't comfortable doing something that a doctor or nurse asked them to do. "I'm the doctor here. I'm the one with the medical degree," one physician yelled when a mother questioned whether lying on her back was the best way to advance labor. These stories began to link my calling to be a doula to the broader obligations of my faith -- to affirm life and to work for justice. Now I imagine a more favorable case, where a doula is present to advocate for the mother and to protect the memories of her birth experience.
When I think about becoming a doula, I recall Mary en route to Bethlehem, riding a donkey, powering through contractions. I imagine her speaking to Joseph in a firm, urgent tone: "There's no more time. That shelter over there will do. Just let me get off this mule so I can do what I gotta do!" And there, without physicians in white lab coats, stirrups, a fetal heart rate monitor, or a catheter, Mary bore baby Jesus. She simply knew. And Joseph was by her side serving in an untraditional role at the time, but nonetheless as helper.
Kierra Jackson is an advertising associate at Sojourners.