YOU CAN'T BELIEVE the ninth month will ever arrive. But it will, and you know you'd better break the news without further delay.
Stretched out on the couch, staring at a spider crossing a crack in the ceiling, you say, "Precious one, the doctors took another picture yesterday. And it turns out … well, it turns out that you don't have a pee-pee after all. You, my love, are a girl."
Placing your hands on your belly, you wait for baby to stir. Nothing.
You go on. "Little one, all the time I took coming up with a name for you—Jesús Paul—was in vain. So I set about finding a replacement; no easy thing."
You look over at the TV set and bite your lip. Every afternoon—after long days of waiting on tables at La Tropical—you watch infomercials to unwind. The one you enjoy the most features a doctor in a white coat advertising plastic surgery procedures. Face and butt, abs and boobs. Only in America, you think. No need to be embalmed at death when you can be embalmed throughout life. The doctor carries on for half an hour. Surgery can improve a woman's self-esteem, he crows. It can change the course of her destiny.
"Now listen up, mi preciosa," you say, stroking your belly. "After much prayer I've decided that your name will be Destiny. Destiny Jane Anaya."
The baby kicks not once, not twice, but three times. You have no idea if the baby understands a word of what you've said. Still, you worry. Thinking back to the names of family in Mexico, you wonder if you've made a terrible mistake.
Adelina, Maudi, Encarnacion, Consuelo, Lucinda, and Belen. There's even a Telesfora in there—a great-aunt who joined the Sisters of Loretto, where her name was changed to Crucita. The old-time names make you think of a cast-iron pot, unbreakable, with a lifetime guarantee. Destiny? For an instant it sounds light as cotton candy, too lightweight to pin the child to earth when she lands—a spirit no more, but a human being.
Read the Full Article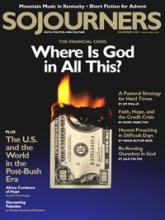 ​You've reached the end of our free magazine preview. For full digital access to Sojourners articles for as little as $3.95, please subscribe now. Your subscription allows us to pay authors fairly for their terrific work!
Already a subscriber?
Login