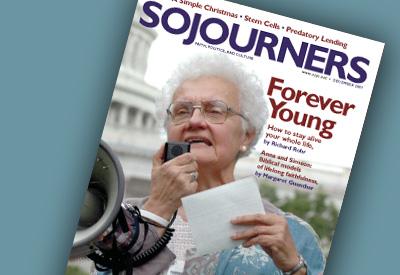 In the United States of the 1830s, it was unheard of for a woman to speak publicly to large groups that included men as well as women. Especially if the topic was a burning political issue.
But Maria W. Stewart, a free African-American woman in Boston, suffered social censure rather than defy her faith and conscience. Not yet 30 years old, Stewart stood up to lecture in Boston's Franklin Hall at a September 1832 anti-slavery gathering of African-American women and men. Her topic: opposition to the "colonization" movement, which sought to ship free blacks and ex-slaves back to Africa rather than redress the wrongs done them. Her opening was blunt and provocative, a call to active resistance: "Why sit ye here and die? If we say we will go to a foreign land, the famine and the pestilence are there, and there we shall die. If we sit here, we shall die. Come let us plead our cause before the whites: if they save us alive, we shall live—and if they kill us, we shall but die."
Then she makes a brief aside, so timed, one assumes, to answer the grumblings her boldness of speech would elicit from some. "Methinks I heard a spiritual interrogation—'Who shall go forward, and take off the reproach that is cast upon the people of color? Shall it be a woman?' And my heart made this reply—'If it is thy will, be it even so, Lord Jesus!'"
Having claimed the only credential that by her standards mattered, Stewart returned to her lecture.
Stewart's writing and speaking career, from 1831 to 1833, was brief but groundbreaking. Not only was she the first American woman to give a political lecture to a mixed-gender audience, she also was one of the first African Americans to speak publicly for women's rights. Marilyn Richardson, a scholar of Stewart's work, asserts that "in both the formulation and the articulation of the ideas central to the emerging struggle for black freedom and human rights, Stewart was a clear forerunner to generations of the best known and most influential champions of black activism, both male and female." The public careers of Frederick Douglass and Sojourner Truth were still a decade away when Stewart spoke and wrote.
Stewart was influenced by both the African-American intellectual ferment of her time and the hardscrabble circumstances of her life. "Orphans and widows" is a frequent trope used by prophets in the Bible to represent society's most vulnerable members; in a powerful reversal, Stewart, who was both orphan and widow, became prophet and reformer.
Born Maria Miller to free parents in Hartford, Connecticut, in 1803 and orphaned at 5, she was "bound out" as a household servant to a white minister and his family, remaining with them until she was 15. Her education was claimed in bits and pieces, predominantly through Sabbath schools, where Bible study was also an occasion to learn reading, writing, and literature.
Maria moved to Boston and married a successful ship's agent, James Stewart, in 1826. There she met David Walker, a prominent activist and writer in the African-American community. His 1829 fiery manifesto Walker's Appeal used scripture and history to dismantle "Christian" arguments for slavery and white supremacy. His faith-based abolitionist approach had a catalytic effect on Stewart's thinking.
The relatively new sense of family and community that Maria—the orphan who had grown up in a white family's house—was presumably enjoying was soon shattered by two tragedies: Her husband of a little more than three years fell ill and died in December 1829. Stewart also was cheated out of her husband's estate by conniving white businessmen. Then within a year David Walker, her intellectual mentor, was found dead of unknown causes.
In the midst of mourning, Stewart underwent a profound renewal of faith. God comforted Stewart in her grief, but did not call her to be comfortable. These were the later years of the 19th century revival period known as the Second Great Awakening, which especially in New England was characterized by a faith-fueled passion for social reform. When it came to slavery, to the lack of education and entrepreneurship even among free African Americans, to the limited rights of women, Stewart, in effect, felt anointed to preach. Like her contemporaries Walker and Nat Turner, her intense inner spiritual passion became one with her hunger for justice in the world.
IN FALL 1831, Stewart brought the manuscript of a religious-political treatise she'd written to William Lloyd Garrison, the white editor of The Liberator, a recently established abolitionist newspaper. Garrison, impressed, published the essay as a pamphlet, Religion And The Pure Principles Of Morality, The Sure Foundation On Which We Must Build.
Here were all the root themes that Stewart would expound on for the next two years, framed by and cross-referenced to scripture. She exhorted the African-American community to better itself through religious faith, education, and entrepreneurship: "[We] have a great work to do. Never, no, never will the chains of slavery and ignorance burst, 'til we become united as one, and cultivate among ourselves the pure principles of piety, morality, and virtue." But Stewart also warned white oppressors of the wages of their sins in no uncertain terms (see "We Are Not Afraid," p. 25).
Most significant, Stewart decried the double burden of menial labor and enforced ignorance that race and gender put upon most African-American women: "How long shall the fair daughters of Africa be compelled to bury their minds and talents beneath a load of iron pots and kettles?" She lifted up the neglected power and intelligence of women as a vital resource and made clear both the right and the responsibility of women to contribute equally to the culture and consciousness of the African-American community.
Stewart began to contribute regularly to The Liberator (her pieces were relegated to the "Ladies Department"). Her first known public speech was in spring 1832, to the "Afric-American Female Intelligence Society" of Boston, a group for mutual support, study, and service.
While Stewart had some supporters, she refers in her work to being criticized for her religious zeal, for being too forthright in her prodding of her community, and most of all for having the audacity to be a woman who spoke to and attempted to instruct men in political and moral matters. She was reportedly booed when speaking to audiences that included men. One 19th century historian wrote that even many of Stewart's friends rebuked her outspokenness.
Frustrated with the continual opposition, Stewart ended her known speaking career on September 21, 1833, with a "farewell address to her friends in the City of Boston." This was not a surrender of principles, however. She especially defended the God-given right of women to speak with authority in the public square:
What if I am a woman; is not the God of ancient times the God of these modern days? Did he not raise up Deborah, to be a mother, and a judge in Israel? Did not queen Esther save the lives of the Jews? And Mary Magdalene first declare the resurrection of Christ from the dead? Come, said the woman of Samaria, and see a man that hath told me all things that ever I did, is not this the Christ? St. Paul declared that it was a shame for a woman to speak in public, yet our great High Priest and Advocate did not condemn the woman for a more notorious offense than this … Did St. Paul but know of our wrongs and deprivations, I presume he would make no objections to our pleading in public for our rights.
On one hand, Stewart was shaking the dust off her feet (as in Mark 6:11): "For I find it is no use for me as an individual to try to make myself useful among my color in this city." But she also was still calling her community to higher ground, saying, "let us no longer talk of prejudice, 'til prejudice becomes extinct at home. Let us no longer talk of opposition, 'til we cease to oppose our own."
IN 1834 STEWART moved to New York City, where she was active in both abolition efforts and African-American women's literary groups. There Stewart began teaching and founding schools for African-American children, her vocation for the rest of her life, lived out in at least three cities. This was a more accepted way for a woman of her time to engage social change—but still radical in its own way, in an era when teaching slaves to read was illegal in the South and affordable education for African-American children was often inferior or nonexistent in the North.
Stewart's impact, however, did not end with those she taught or who had heard her speak or read her work in The Liberator. A collection of her essays and lectures, Productions of Mrs. Maria W. Stewart, was published a year after her departure from Boston and broadly advertised in abolitionist circles nationwide. "Within a year of its appearance," Richardson wrote, "other women, black and white, following the dictates of mind and conscience … and, taking the path she had opened, walked up the steps to the podiums of churches and meeting halls ... to proclaim the social gospel of liberation and justice for all."
To a modern reader, some of Stewart's musings are relics of another time. But like the words of the biblical prophets, many passages reverberate with timeless truths—the power of education, the rights and dignity of all people, and the destruction wrought by institutional injustice on both the oppressed and the oppressor. We still struggle today to achieve equality for women and racial and ethnic minorities; a decent education is still denied to many; enslaved peoples still yearn to be free around the world.
Maria W. Stewart was not just a trailblazer for a bygone era. Her defiant, faith-infused eloquence delivers a message of freedom, dignity, and justice that can speak to us still. n
Julie Polter is an associate editor of Sojourners. Maria W. Stewart died in Washington, D.C., in December 1879. Her writings are collected in Maria W. Stewart, America's First Black Woman Political Writer, edited and introduced by Marilyn Richardson.