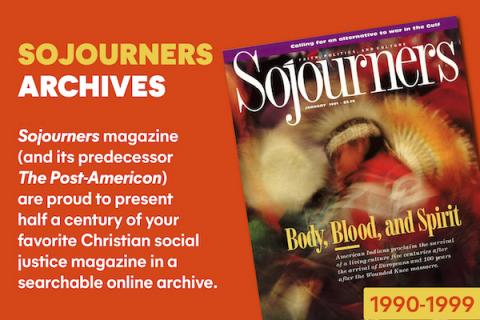 For many years, the December issue of Sojourners has honored a person or persons who somehow communicates the mystery, love, and truth of God in the world, incarnate.
This year we focus on the author Flannery O'Connor. A devout Catholic and self-taught lay theologian, she was fiercely dedicated to fiction as an incarnational art-capable of revealing the mysterious encounter with redemption only by being true to the blood and dust, delusions and customs of the human condition. -The Editors
All human nature vigorously resists grace because grace changes us and the change is painful. -Flannery O'Connor
WHILE SCRIPTURE MAY CONFER SPECIAL blessings on those who believe in the risen Christ but never saw him up close, Flannery O'Connor recognized that at best modern people tend to be doubting Thomases (and at worst, sentimentalists who deny anything so ugly as crucifixion even as they are hammering in the nails). So she offered up stories that are haunted with a risen savior, whose wounded side and terrifying love and forgiveness demand acknowledgment in unexpected, brutal, and sometimes hilarious ways.
O'Connor's career spanned the 1950s and early '60s, an era when commercial culture's adoration of progress and prosperity reigned. The future was painted as bright and homogenous as the shiny new subdivisions springing up across America and never mind that backyard bomb shelter. Ominous possibilities and the most seething tensions-race and ideology-were politely ignored whenever possible. If the sparkling promises of advertising weren't to your tastes, then there was always the choice of artistic and intellectual nihilism.
Against these tides, O'Connor focused on the peculiar, the specific, the rough, often ugly textures and memories of the place she knew best, the rural South. She saw the world, her world, as sacrament, brushed with grace, utterly real-gnarled, twisted, weathered, beaten, but still straining toward a fuller truth in God.
MARY FLANNERY O'CONNOR was born in Savannah, Georgia, on March 25, 1925, the only child of Regina and Edward O'Connor. She was born and raised Catholic, a fact that defined her personal faith and perhaps, given the rarity of Catholics in the overwhelmingly Protes-tant South, helped shape her independent and ironic take on life.
The family moved to the small town of Milledgeville, Georgia, close to her mother's people, when Flannery's father became ill with systemic lupus erythematosus (SLE). A chronic inflammatory connective tissue disorder, SLE causes periods of joint pain, and fatigue, and can also attack the hearts, lungs, and kidneys. Her father died of the disease when she was 15.
O'Connor attended Georgia State College for Women (now Georgia College) in Milledge-ville, majoring in sociology. She had showed a gift for satirical writing (as well as cartooning) since she was a child. By the end of her undergraduate education, O'Con-nor knew that writing was her true call. She spent two years at the prestigious School for Writers at the State University of Iowa on scholarship, receiving a master's of fine arts degree in 1947.
She lived for a couple more years outside of the South-spending some time at Yaddo, an artist's colony in New York, and
then staying with good friends in Connecticut. But she fell ill on the way home to Georgia for the holidays in December 1950-a nearly fatal attack of the same form of lupus that had afflicted her father. She rewrote and polished her first novel, Wise Blood, while in the hospital.
While she initially thought that she had returned to Georgia temporarily, O'Connor eventually realized and accepted the limitations that the lupus and its complications placed on her (one of which was that she needed crutches for most of the rest of her life). She didn't speak of illness much at all, although in letters to friends she sometimes wrote with frustration of well-meaning people who patronized her. She noted dryly that if the lame shall enter the kingdom of heaven first, "this may be because the lame will be able to knock everybody else aside with their crutches."
Aside from the occasional speaking engagements and brief visits with friends, O'Connor stayed on the family farm outside of Milledgeville. Her mother ran the farm, allowing Flannery to focus her energy on writing-three or four hours every morning. She filled the rest of her day with study and reading, visits from friends, writing lively and insightful letters to friends and strangers alike (her letters are collected in a book titled The Habit of Being), and delighted in the chickens and peafowl she raised as a hobby.
She was, as revealed in her letters and essays, a passionate thinker and lay theologian. Her influences included Augustine and Aquinas, Karl Rahner, Jean Danielou, mystics Theresa of Avila and St. Catherine of Siena, and the works of Teilhard de Chardin. She also read a wide range of philosophers, including Martin Heidegger, Martin Buber, Jacques Maritain, and Edith Stein.
O'Connor also did the intense seeing that her writing required, observing the interactions of her mother and the farm help or the townspeople in Milledgeville, the slant of the setting sun over a pasture, and the life of the region as chronicled in the local newspapers. All were raw material for the sharply drawn characters, evocative scenes, and dead-on dialogue of her stories. While the lupus limited her life in many ways, it also gave her a stability and even freedom to seek and absorb the details of her region.
Her vision was sometimes decried as harsh and negative, whether by local people who wished O'Connor could write "nice" stories or by well-meaning church people who wanted a happier communication of the faith. (On the other hand, some members of the academic and literary community weren't offended by the roughness of her stories, but they were ignorant of or hostile toward any spiritual potential.)
She herself described her characters as "poor, afflicted in both mind and body, [with] little-or at best a distorted-sense of spiritual purpose." But she understood the universe created by God as good and evil as the misuse of that good-all the more reason to fiercely tell the truth about what she saw. Writing to a friend, she complained about reviews that called her short story collection A Good Man Is Hard to Find brutal and sarcastic. "The stories are hard," she wrote, "but they are hard because there is nothing harder or less sentimental than Christian realism." In the essay "The Fiction Writer and His Country," now in the collection Mystery and Manners, O'Connor wrote:
Unless we are willing to accept our artists as they are, the answer to the question, "Who speaks for America today?" will have to be: the advertising agencies. They are entirely capable of showing us our unparalleled prosperity and our almost classless society, and no one has ever accused them of not being affirmative. Where the artist is still trusted, he or she will not be looked to for assurance.
If she had no desire to comfort the comfortable or sell cultural myths with her writing, O'Connor also had no desire to use it as propaganda or religious tract. Her study of theology and scripture (especially the prophets of the Hebrew Bible) surely undergirds her fiction and adds richness to her use of symbolism and allusions. But her priority was on telling a good story.
A good story, as with all good art, doesn't tweak emotions or win assent to a cause or ideology, but transforms the person who encounters it. As O'Connor described it, you don't read a story and "then climb out of it into the meaning"; the whole story is the meaning-"it is an experience, not an abstraction."
O'Connor noted drily that "the world has been flooded with bad fiction for which the religious impulse has been responsible," written by people who mistakenly think that belief releases them from the obligation to see and portray the material world in-and through-which the Spirit moves. For her, the moral basis of writing poetry and fiction was the accurate naming of the things of God. Only through accurately representing the visible universe could the fiction writer approach and access the invisible universe-the spiritual dimension of characters, settings, and actions.
FOR BETTER OR WORSE, O'Connor often brought her characters to the point where they could decide for or against truth through physical violence-a sociopath's bullet, a runaway bull, a book smacking into a chattering, self-righteous woman's head. Strong, almost caricatured action was vital, she felt, to get through to a modern sensibility that separated spirit and matter and then didn't believe in the spirit part. Sometimes her characters were too strongly drawn-their intellectualism cartoonish, their disbelief lacking realistic nuance. But usually she used exaggeration skillfully, just enough to intensify and highlight the true nature of things.
The more profound action that is intrinsic to O'Connor's dramatic physical action is always the characters' recognition and acceptance of-or final defiance to-grace. The stony temples of intellect or self-righteousness, presumed racial superiority or toughened cynicism that people carry inside are confronted with the living God's overwhelming love: love "without reason, love for something futureless, love that appeared to exist only to be itself" (The Violent Bear It Away).
By the time of her death at the age of 39, Flannery O'Connor was established as one of the most technically gifted and original fiction writers of the 20th century. More important, she left a relatively small but finely crafted body of work, stories that zero in on the mix of the down and dirty and infinite mystery that is life.
Julie Polter is a Sojourners senior associate editor.