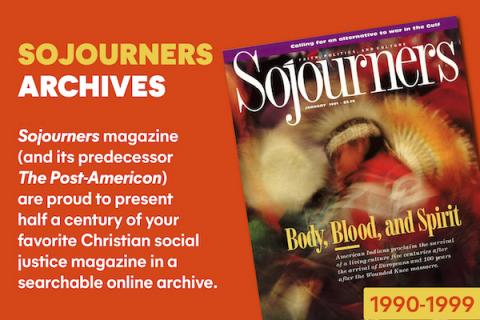 All criticism is autobiography, one of the literary gurus said. So to declare the hidden agenda right up front, I am a Southerner, from the deepest Deep South. There I enjoyed the blessings and trials of a Southern Baptist raising, and later chose to become a Roman Catholic. So it should be no surprise when I tell you that Miss Mary Flannery O'Connor speaks to my condition.
"The two circumstances that have given character to my own writing have been those of being Southern and being Catholic," O'Connor wrote in an essay titled, "The Catholic Novelist in the Protestant South."
"What the Southern Catholic writer is apt to find, when he [sic] descends within his imagination, is not Catholic life but the life of this region in which he is both native and alien." This she suggested was because the South is a culture, while the church, at least in America, is not.
The South's identity, according to O'Connor, results from beliefs and qualities "absorbed from the scriptures and from her own history of defeat and violation: a distrust of the abstract, a sense of human dependence on the grace of God, and a knowledge that evil is not simply a problem to be solved, but a mystery to be endured."
And so it is to this day. In 1989, The Encyclopedia of Southern Culture suggested that the best indicator of the Southern culture's geographic boundaries is the preponderance of TV preachers and gospel music in the electronic airwaves. In October of this year, a public opinion poll showed that the South is still markedly more religious than the rest of the country.
The characteristics of Southernness to which O'Connor pointed are all clearly present in her stories. In her two novels, The Violent Bear It Away and Wise Blood, she expresses complete empathy and identification with her bizarre "mad prophet" characters, the two Tarwaters and Hazel Motes respectively. She displays a deep-seated hostility toward Atlanta and all its pomps. In her stories the prosperous and sophisticated city is a place of estrangement and alienation. It sends emissaries into the countryside to rape a young boy (The Violent Bear It Away) or steal the wooden leg off of a crippled farm girl ("Good Country People").
Look, for a moment, just at The Violent Bear It Away. In this novel O'Connor assumes that her backwoods moonshiner-visionary, Tarwater the elder, is a true prophet, and that his bootlegging is no contradiction of his vocation. Evil, in the story, acts through the big city schoolteacher, Rayber. Rayber's great sin is that he "studies" people, when the point is to save them. That, and the fact that he deliberately refuses to surrender to the oceanic love he feels for his retarded son.
O'CONNOR WAS a Southern writer, but she was every bit a Catholic writer, too. She could not have understood and dramatized the things that she did about the South without the critical distance of Catholicism (and yes, the geographic distance of those years in Iowa and New York). Religion is the saving grace of the South, but Southern religion has a tragedy of its own. That is the absolute dualistic split it enforces between grace and nature, spirit and flesh, human and divine, between the life of this world and the life of its Creator.
The South is home to a joyous biracial culture given to fried foods, funny stories, and elaborate festivities of all sorts. The South invented Coca-Cola and the music to which the whole world now dances. This culture is nestled, for the most part, in a natural setting of unmatchable beauty, comfort, and fertility.
But Southern culture labors under the yoke of a religious ideology that insists, against all this abundant evidence, that the things of this world are irredeemably evil. The theology of mainstream Southern Protestantism is one in which the incarnation, where flesh and spirit indisputably mix, is what sex was to the Victorians, an unpleasant necessity not to be discussed in polite company. The real Tarwater in today's rural South might well be both a moonshiner and a prophet. Today he might even grow a little hemp, too. But he would feel guilty about it, and O'Connor's character does not.
This cultural schizophrenia is a special torment to Southern artists. The artist has nothing but the tools of nature-language, pigment, the banging of wood and steel, the straining of a larynx, the swivel of a hip. And the artist is bound to suspect, no matter what his or her theology, that these blunt instruments are, at least sometimes, the vehicles of grace. Catholicism gave O'Connor, and convert Walker Percy, and some of the Fugitive school of writers before them, a way to think through these contradictions and emerge with some vision of wholeness. Faulkner struggled toward such a vision, alone, in the dark, and sometimes thought he saw it in the bottom of a bottle.
Southern working-class popular artists, deprived of the intellectual toolbox these questions might require, are often driven crazy by them instead. Hence the deep moral and spiritual derangement that afflicted Elvis, and Hank Williams before him, and that still torments Jerry Lee Lewis, and cousin Jimmy Lee Swaggart, too. The Reverend Al Green has acted out a version of this struggle, as has Little Richard. And don't forget founding bluesman Robert Johnson (the one of the postage stamp), and his famous date with the devil.
As a Southern Catholic artist, O'Connor reached past this wrenching spiritual division, and the healing of it was at the very core of her vocation as a fiction writer. In the collection of essays titled Mystery and Manners, she writes, "Christ didn't redeem us by a direct intellectual act, but became incarnate in human form." And the fiction writer's main concern, she asserted, is with such mystery as it is incarnated in human life: "The fiction writer represents mystery through manners, grace through nature."
DANNY DUNCAN COLLUM is Sojourners' popular culture columnist (on temporary leave) and a contributing editor. He is completing a master's in fine arts in creative writing at George Mason University, where he also teaches writing. He lives in Alexandria, Virginia, and is at work on a book about race and class for Orbis Press.