MATTHEW DESMOND, a Princeton sociologist and author, has grown tired of calls to reduce poverty — because he knows we can abolish it. In his new book, Poverty, by America, Desmond explores not the lives and struggles of people who are poor — but poverty, and the conditions that cause it. And Desmond contends that the lives the rest of us live are often connected to the conditions that cause poverty.
"To understand the causes of poverty, we must look beyond the poor. Those of us living lives of privilege and plenty must examine ourselves," Desmond writes. "Are we — we the secure, the insured, the housed, the college educated, the protected, the lucky — connected to all this needless suffering?"
Desmond is the son of a pastor, and his work is rich with spiritual metaphor and flare while grounded in the material realities of poverty and the conditions that cause it. He dedicates a chapter of his book to refuting the idea that "neoliberal" cuts in welfare spending are to blame for poverty. "There is no evidence that the United States has become stingier over time. The opposite is true," he writes. Instead, the problem is "a fair amount of government aid earmarked for the poor never reaches them." Sojo.net associate news editor Mitchell Atencio spoke with Desmond about his new book, community building, and capitalism. —The Editors
Sojourners: Theologian Gustavo Gutiérrez defines poverty as "premature and unjust death," saying that "the poor person is someone who is treated as a non-person, someone who is considered insignificant from an economic, political, and cultural point of view." Is that a good way to describe poverty?
Matthew Desmond: I think that's a factual way to describe what poverty is. Between 2001 and 2014, the richest women in America gained three years of life and the poorest women gained 15 days. So, poverty is death. There was a study that came out very recently that showed that one of the leading causes of death in the United States is poverty. I think that when we deny people access to basic needs, and we deny them basic economic security in this rich land, we do deny them life and happiness itself.
The other part of the quote about insignificance is very interesting because it does seem that in our popular culture — our TV shows, our movies, our children's books — there are often no portrayals of real poverty in those media, and so it's kind of amazing how seamlessly the poor can be erased from everything we're reading and watching and reading to our kids.
Read the Full Article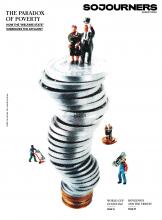 ​You've reached the end of our free magazine preview. For full digital access to Sojourners articles for as little as $3.95, please subscribe now. Your subscription allows us to pay authors fairly for their terrific work!
Already a subscriber?
Login