In the August 2012 article "Come Together and Listen," Rev. Canon Robert Two Bulls shares about the deep faith of his people—the Oglala Lakota—and their life on Pine Ridge Reservation in South Dakota. Watch this video to hear his father recite the Lord's Prayer in Lakota and view beautiful photos of Pine Ridge.
Lakota translation of the Lord's Prayer:
Ate unyanpi, mahpiya ekta nanke cin,
Nicaje wakanlapi nunwe.
Nitokiconze u nunwe.
Mahpiya ekta nitawacin econpi kin,
He iyecel maka akanl econpi nunwe.
Anpetu iyohi aguyapi kin, anpetu kin le unqu piye.
Na tona ecinsniyan ecaunkicinpi wicaunkicicajujupi kin,
He iyecel waunhtanipi kin unkicicajuju piye.
Na taku wawiyutanye cin ekta unkayapi sni piye;
Tka taku sice etanhan eunklaku piye;
Wokiconze kin, na wowasake kin,
Na wowitan kin, hena ohinniyan na ohinniyan nitawa heon. Amen.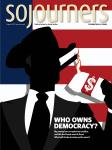 This appears in the August 2012 issue of Sojourners
Got something to say about what you're reading? We value your feedback!