I concur with Jim Wallis' fine column "Grace Under Pressure" ("Hearts & Minds," May 1994) about Cardinal Joseph Bernardin. Those of us who have witnessed this good man's ministry unfold have been heartened by his faith, his leadership, and his humility.
His strength and gentleness in dealing with the Steven Cook case was, as you indicate, an excellent example. Those who have been victimized must never feel the church is out to intimidate them, humiliate them, write them off, or buy them off. In this regard Cardinal Bernardin has given a fine example.
And yet I am plagued, as I know many others are, by another related issue. How should the church and all of us as individuals deal with those who are not the victims: the "unregistered Philadelphia hypnotist," the unscrupulous attorney, the manipulative family member, etc.? We all know there are times when the accused (priest, family member, friend) can also be innocent and hence victimized. Do we allow this to go unaddressed and unchallenged? It is a difficult situation that calls for both sensitivity and responsibility.
Father Joseph A. Fata
Youngstown, Ohio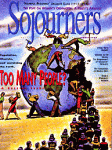 This appears in the August 1994 issue of Sojourners
Got something to say about what you're reading? We value your feedback!