To sustain is not just to prolong something beyond its time. To sustain something or someone means to nourish, to bear up burdens, to strengthen spirits, to confirm the rightness of simply being.
We have talked for many years about doing an entire issue focused on sustainability for human society and the Earth we live on. This month our feature section is devoted to this question. What changes - in lifestyle, in policy - will it take for the Earth and all the creatues on it not only to survive but to be respected and nurtured?
This issue of Sojourners is also intended to bring forward a faith-influenced approach to population, consumption, and the environment in preparation for the United Nations International Conference on Population and Development to be held in Cairo, Egypt, September 5-13. Copies of this Sojourners will be available to conference participants. We extend our thanks to the Pew Charitable Trusts, whose support, through the Global Stewardship Initiative, made this special issue possible.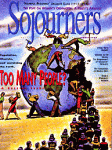 This appears in the August 1994 issue of Sojourners
Got something to say about what you're reading? We value your feedback!