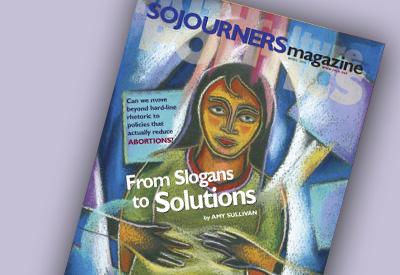 One set of faith-based principles for immigration reform is being promoted by the No More Deaths coalition, based in Tucson, Arizona. Their specific goal is to reduce or eliminate the deaths of migrants attempting to cross the U.S.-Mexico border. Following are excerpts from their statement, which can be found in its entirety at www.nomoredeaths.org/faithbasedprinciples.html.
We share a faith and a moral imperative that transcends borders, celebrates the contributions immigrant peoples bring, and compels us to build relationships that are grounded in justice and love. We believe that using these principles—listed from the most imminent threat to life to the deepest systemic policy problems—will significantly reduce, if not eliminate, deaths in the desert borderlands.
Recognize that the current Militarized Border Enforcement Strategy is a failed policy.
Since 1998 more than 2,000 migrants have lost their lives in the deserts of the U.S.-Mexico borderlands. The border blockade strategy has militarized the U.S.-Mexico border, which drives migrants into remote desert regions yet has failed to stem the flow of immigrants into the U.S. We recognize the right of a nation to control its borders, but enforcement measures must be applied proportionately, humanely, and with a conscious effort to protect the people and the land.
Address the status of undocumented persons currently living in the U.S.
Workers and their families currently living in the U.S. must have access to a program of legalization that offers equity-building paths to permanent residency and eventual citizenship for workers and their families. Legalizing the undocumented workforce helps stabilize that workforce as well as their families. A stable workforce strengthens the country.
Make family unity and reunification the cornerstone of the U.S. immigration system.
Migrants enter the U.S. either to find work or to reunite with family members, yet the arduous and lengthy process forces families to make potentially deadly choices. Families must be allowed to legally reunify in a timely manner, as well as to immigrate together as a unit.
Allow workers and their families to enter the U.S. to live and work in a safe, legal, orderly, and humane manner through an Employment-Focused immigration program.
International workers' rights must be recognized and honored in ways that protect: the basic right to organize and collectively bargain, individual workers' religious freedoms, job portability, easy and safe travel between the U.S. and homelands, achievable and verifiable paths to residency, and a basic human right of mobility.
Recognize that root causes of migration lie in environmental, economic, and trade inequities.
Experiences of Mexico and countries further south demonstrate that current trade and aid strategies that are based on greed and lack of basic respect deeply and negatively impact workers, their families, and the environments in migrants' homelands. This is forcing a quest-for-survival-based migration of unparalleled proportions. International agreements must be negotiated in ways that build mutual and just relationships.