Posts By This Author
Alabama Pastor's Take on Latest Anti-Immigrant Legislation
06-04-2012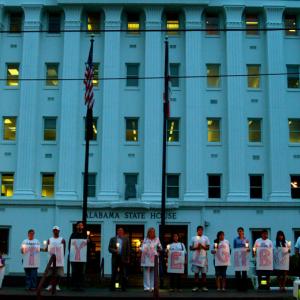 Here we are today, caught in an economic slump, finding ways to once again dehumanize those that we encouraged to come. The very people who have harvested our food, built our homes and served us over the past 30-plus years, we now declare criminals.
In my beloved Alabama, where 3 percent of the population (largely Hispanic) is estimated to be undocumented, our state government has created the harshest and most egregious anti-immigrant laws in the country. Rep. Micky Hammon and Sen. Scott Beason, sponsors and writers of HB56, stated that these laws would create an atmosphere of "self deportation." I can only wonder how Native Americans might feel about that concept.
HB56 — passed by the legislature and signed into law by Gov. Robert Bentley in June 2011 — has now been replaced by HB658. The stated purpose of the new legislation was to simplify HB56 and make enforcement less complicated. In the process, stricter guidelines and harsher treatment were incorporated while simplification was ignored.
I am compelled to look at this law as a child of God within the Christian faith, accepting that all people in this world are my brothers and sisters, created by the God who breathed life into me and into them, making us one family.