Tomás Insua is executive director of the Global Catholic Climate Movement.
Posts By This Author
The Global Church Races to Reach Carbon Zero
10-22-2020
Prophetic pressure is sorely needed.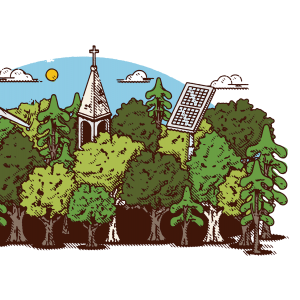 THE CLIMATE CRISIS is a moral crisis. What else should we call the willful choice to inflict hunger, disease, and suffering on those in the poorest circumstances?
At the same time, the climate crisis is an opportunity to allow God's healing grace to enter our lives. As with every great failure of our collective conscience, the way forward begins with each of us standing up in faith and love to right the wrongs of the past. Around the world, faith communities are doing just that. As national governments fail to show the decisive and visionary leadership we need, faith communities are taking up the mantle of justice. Under the banner of the U.N.'s "race to zero" initiative, many faith communities are committing to meaningful changes in the way they operate to build a healthy, safe world that protects everyone.
It's hard work, but it is the way of the future. In 50 years, the Earth's fossil fuels will be depleted, and the world will no longer run on oil and gas. The only questions are how quickly we can make this change and whether we can make it well. Many faith institutions have chosen to put their pocketbooks to greater service by divesting from fossil fuel companies and reinvesting in clean renewable energy. To date, nearly 400 faith-based institutions have divested, constituting the single largest source of commitments in the global divestment movement. Committed institutions range from huge international networks to small communities of women religious, around the globe. It's a big movement that is successfully pressuring oil companies to think beyond the status quo.