Posts By This Author
Billy Graham is NOT an Anti-Gay Bigot
08-01-2012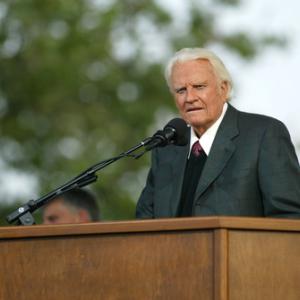 Let me tell you about Billy Graham, just as he is, because based on what I experienced working for the man for six years, two statements issued under his name last week (and one earlier this year) significantly collide with the well-established values of this great humble faith leader.
The first statement I am referring to is the fundraising letter for the Billy Graham Evangelistic Association (BGEA) that quoted Billy's late wife Ruth as saying, "If God doesn't punish America, He'll have to apologize to Sodom and Gomorrah." The letter goes on, in Billy's alleged words, "My heart aches for America and its deceived people."
The second statement is Billy's statement of support for "my good friends [Chick-fil-A founder] Truett Cathy and his son Dan Cathy ... for their strong stand for the Christian faith." The statement actually continues, in Billy's voice, to say, "As the son of a dairy farmer who milked many a cow, I plan to 'Eat Mor Chikin' and show my support by visiting Chick-fil-A next Wednesday." (Update: BGEA issued a revised statement clarifying that Billy now "plans to enjoy his chicken at home.")
The earlier statement was a full-page ad for Amendment One and the North Carolina state constitutional amendment stating the only valid and recognized domestic legal union to be "marriage between one man and one woman." The ad was emblazoned with Mr. Graham's distinguished elderly visage, and appeared in 14 North Carolina newspapers in advance of the May 8 vote that established the amendment as N.C. state law.
At the time of the Amendment One ad, official Billy biographer William Martin told the Associated Press that he believed the words were not those of Billy's son and current BGEA President Franklin Graham: "Franklin has been more outspoken about it, but it sounds as if this is Mr. Graham expressing his own will."
I believe Martin was wrong then, and I'm even more convinced now. Mr. Graham had never made political statements like this in the 62-year history of the ministry, and BGEA's evangelistic crusades have never partnered with corporations like Chick-fil-A, although they easily could have. (Evangelist Luis Palau, a disciple of Billy's, uses corporate sponsors for all of his city-wide events these days.) Now, to have three of these statements come out in the past three months — and a very obvious commercial for a fast-food chain — causes me to wonder if this trickle will turn into a flood, right at the end of Billy's life.
The Nights Were Flamed With Fire
06-29-2012

When I heard Damion Suomi & The Minor Prophets for the first time, they were performing on the main stage at Wild Goose Festival 2012, opening up for established artists Jennifer Knapp and Phil Madeira. I had heard good things about them from my friend Todd Fadel, the music director for the festival, and I was not disappointed.
It was an experience I can only liken to hearing Bill Mallonee for the first time, performing with the Vigilantes of Love at Cornerstone Festival in 1992 (how can it be 20 years ago?!). Or hearing Steven Delopoulos for the first time, performing with Burlap to Cashmere. (In fact, Suomi's voice and The Minor Prophets folk-rock will no doubt get compared to Burlap, but don't be fooled, this is entirely new/different story!)
In both of those experiences, I immediately went out and purchased the CD (remember those?). Hearing Suomi and band was exactly the same. Product procured immediately following their set, I listened to their fantastic plastic musical disc Go, And Sell All Your Things all the way back home after the festival.