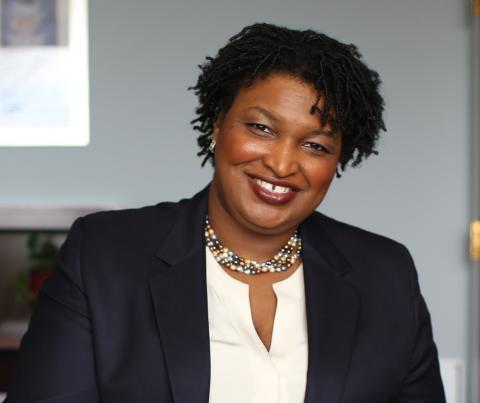 Stacey Abrams, the Democratic nominee in Georgia's 2018 gubernatorial election, is the founder of Fair Fight, which works to fight voter suppression and promote fair elections.
Posts By This Author
Stacey Abrams: We've Got to Talk About Power
07-21-2020
How to outsmart the deliberate barriers placed in voters' way.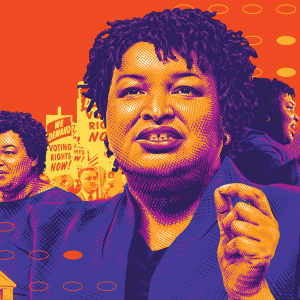 I GREW UP in Gulfport, Miss., which is on the coast, and my parents are from Hattiesburg, which is about an hour north up Highway 49. On weekends, my mom and dad would pile the six of us in the car, and we would visit my grandparents.
My grandparents' names always caused some confusion in our family because my grandmother was Wilter and my grandfather was Walter, but they called each other Bill and Jim. I didn't know who was who. And my grandmother—Wilter, Bill, and known affectionately by my grandfather as Sugar Honey—she and my grandfather raised us with my parents to understand where we came from.
They wanted us to understand that my great-grandmother Moo Moo, who lived in the little house next to theirs, was two generations removed from slavery. Her grandparents had been slaves. Her parents had been sharecroppers. If you were lucky, you would get there in time to help her shell peas and listen to the stories that she would tell. You could listen to the history from her mouth, and you knew you were in a sacred place sitting on that front porch. When I got ready to run for office, I was bringing them with me, and I didn't quite understand it.
But in September 2018, as the election for Georgia's governor was heating up and stories were flying around about voter suppression, I went home to Mississippi because my grandmother was ailing. My grandfather had passed away in 2011, but my grandmother, she was on the edge. Grandma had a rocking chair recliner she sat in most of the day and a bed right beside it. When you came in the room, you sat on the edge of the bed and took her hand—because she was watching MSNBC, and you didn't want to interrupt her learning why she was mad that day.
When she got to a place where she was going to acknowledge your presence, she would mute the television and turn to you. As I sat by her bedside, her hand was frailer than it had ever been before. The skin was papery and soft. The bones were brittle, and I could feel every one of them; I knew I was holding my grandmother's hand for one of the last times. But she didn't want to talk about how she was ailing; she wanted to talk about my election. She asked me if I was taking care of her baby, meaning me. I said, "Grandma, I'm doing my best. But I'm worried, because this man I'm running against is in charge of the election. He's the scorekeeper, he's the contestant, he's doing the box copy, he's the umpire, and it's going to be hard." And she said, "Have you done what you can?" I said, "Yes ma'am." "Let me tell you about the first time I voted," she said.