Shannon Dingle is a teacher, writer, disability activist, and sex trafficking survivor. She has written for USA TODAY, Teen Vogue, and the Washington Post. She, her husband, and their six children live in Raleigh, NC.
Posts By This Author
The Full Affirmation of Disability Justice
06-20-2019
We don't know what disability justice is because we haven't begun to reckon with our history of injustice.
Resisting Ableism in the American Church
11-07-2018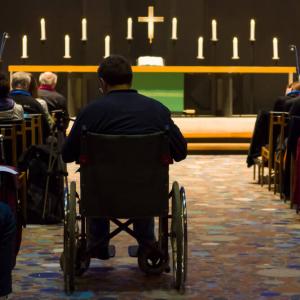 Going to a new church as a disabled person is a brave act. Why? Because churches have a history of being unwelcoming to us.
I love the church. I can't and won't give the church up, no matter how wounded I feel. Yet, I know more disabled people who have left the church than who have stayed. I know more parents who have left after giving birth to or adopting children with disabilities than who have stayed. Whenever I'm asked about Christian speakers, writers, and leaders who are disabled, I pause to think if I can add any new names to the short list.