Posts By This Author
Confronted by the Truth
02-01-2016
From Writing My Wrongs: Life, Death, and Redemption in an American Prison, copyright 2016 by Shaka Senghor. Published by Covergent Books, an imprint of Penguin Random House LCC.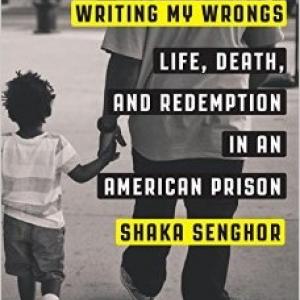 MY SON WAS 10 YEARS, and the sight of an envelope addressed in his squiggly handwriting filled my spirit with joy. But as I tore open the envelope and began reading, I saw that this letter was different from the ones he had sent before.
In the top right-hand corner, Li'l Jay had written in big, capital letters:
MY MOM TOLD ME WHY YOU'RE IN JAIL, BECAUSE OF MURDER! DON'T KILL DAD PLEASE THAT IS A SIN. JESUS WATCHES WHAT YOU DO. PRAY TO HIM.
I stared at the small paragraph for what felt like hours. My body trembled violently, and everything inside of me threatened to break in half. For the first time in my incarceration, I was hit with the truth that my son would grow up to see me as a murderer.
I don't know why I hadn't thought about it before. It's not that I was planning to hide my past from my son—it's just that I thought I would be able to sit down and explain it to him when I felt he was mature enough for the conversation. But as I read Li'l Jay's words, reality kicked me in the gut, and the pain of not knowing what to say spread through my body like cancer.
I didn't know the context of the conversation that he had with his mother, so I wasn't sure how to respond. The only thing I was sure of was that I had to do everything in my power to turn my life around. It was the only way I could show my son that I was not a monster.
His letter continued:
Dear daddy, I wonder how you're doing in there. I'm doing fine. When I think about you, it makes me feel sad with no daddy around to wake me up and go work out and be strong like you. I have to do it all by myself. It bothers me the way I miss you. I pray and pray one day my prayer may come true and we'll be together 4 life. It's the anger in my heart that hurts me most without a dad in the house. My mama said I am the man of the house. She tells me I have to take over the anger so I won't be in jail.