Sarita Santoshini is an independent journalist based in India, reporting on human rights, development, and gender issues. She has reported on gender rights from northern Uganda as an International Reporting Project (IRP) fellow in 2017, and was also the 2016 Bitch Media writing fellow in reproductive rights and justice.
Posts By This Author
How 5 Catholic Nuns Are Propelling India's #ChurchToo Movement
10-11-2018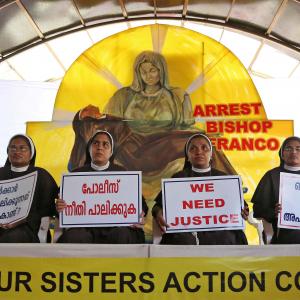 Sister Anupama, who led the protests in Kochi, said that the survivor approached the superior general in early 2017 with concerns about harassment — she was facing disciplinary action because of her resistance to "lie down with" the Bishop. Her concerns were ignored. In June 2017, before reaching out to church officials in northern India and the Vatican, she first revealed to a parish priest and bishop in Kerala that she had been abused by Mulakkal. The complaint then reached the Cardinal Mar George Alencherry, the head of the Syro-Malabar church, but no action was taken.
Why the Opioid Crisis in a Remote State in India Requires the Church's Intervention
09-26-2018
Every day for the last 10 months, Simon* has diligently followed a routine that begins with an 8 a.m. visit to his church. While the 23-year-old has always been religious, this visit is not for prayer or service. Like 53 other men in his village, he makes his way to a small room with a large French-style window, and waits for his turn. A community health worker hands him his daily dose of buprenorphine, which he places under his tongue in front of her and Simon knows he can get through the rest of the day.