Rosel Labone spent more than a decade of her globe-trotting life on the opera stage. Thanks to a well-timed tidal shift to journalism, she's swapped flash frocks for pen and paper. She now earns her daily bread as a television reporter, anchor, writer, and religious cult hunter, and is picking up work as a voiceover artist. She can still be found singing occasionally; she's met Placido Domingo and had a music lesson at Pavarotti's piano. In 2018 she moved to the U.S. all the way from New Zealand. You'll most likely find her backstage at the Met in New York — except for Sundays, when she's at church.
Posts By This Author
Young and Bold — New York Marches Against Trump's Immigration Policies
07-01-2018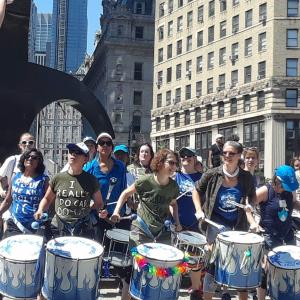 More than 10,000 protesters gathered at Foley Square in downtown Manhattan Saturday morning to march against the Trump administration's policy on immigration. The New York march was part of a nationwide series of rallies organized by advocacy groups, legal and immigrants' rights organizations, trade unions, and concerned citizens.