Richard A. Webster writes for Religion News Service.
Posts By This Author
Monks Win Latest Court Battle in Bid to Sell Caskets
10-29-2012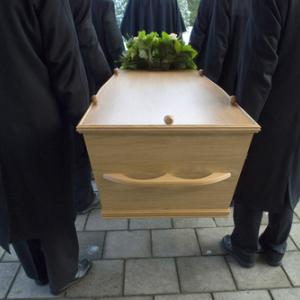 NEW ORLEANS -- In a sometimes harshly worded ruling, a federal appeals court last week smacked down the Louisiana funeral board's continued attempts to prevent a group of monks from St. Joseph Abbey from selling their hand-crafted caskets.
"The great deference due state economic regulation (does not require) courts to accept nonsensical explanations for naked transfers of wealth," wrote Judges Patrick Higginbotham, Catharina Haynes and Stephen A. Higginson of the 5th U.S. Circuit Court of Appeals on Oct. 23. "We insist that Louisiana's rules not be irrational."

The appellate judges sent the case to the Louisiana Supreme Court, refusing to consider the funeral board's appeal of a lower court ruling that said it was unconstitutional for the state to give funeral directors exclusive rights to sell caskets.

"Simply put, there is nothing in the licensing procedures that bestows any benefit to the public in the context of the retail sale of caskets," U.S. District Court Judge Stanwood R. Duval Jr. ruled in July 2011. "The license has no bearing on the manufacturing and sale of coffins. It appears that the sole reason for these laws is the economic protection of the funeral industry," which he wrote is not "a valid government interest."

After Hurricane Katrina destroyed the abbey's timberland outside Covington, La., a longtime a source of revenue, the monks decided to sell their handmade caskets as a way to supplement their income. The abbey invested $200,000 in St. Joseph Woodworks and sold two types of caskets, "monastic" and "traditional," priced at $1,500 and $2,000 respectively.
"To be sure, Louisiana does not regulate the use of a casket, container, or other enclosure for the burial remains; has no requirements for the construction or design of caskets; and does not require that caskets be sealed," the appeals court ruled.