Phil Wilmot directs Solidarity Uganda, an organization that links nonviolence training with movement for social change in Africa. He writes on African activists and lives in Uganda.
Posts By This Author
Women Choosing Peace
04-27-2018
Christians in South Sudan opt for nonviolent resistance to government oppression.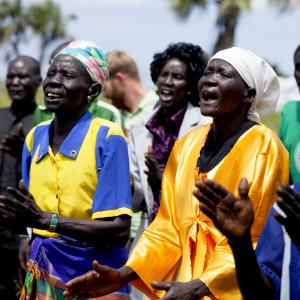 SOUTH SUDAN is the world's youngest and most fragile state. The outbreak of civil war in 2013 pushed millions out of the country and into refugee camps. Oil revenues fuel President Salva Kiir's regime, notorious for kidnapping and torturing those who criticize him.
Kiir's suppression hasn't stopped courageous Christian women from taking their prayers for peace to the streets. On the first Saturday of every month, hundreds of women gather to demand an end to war.
"All 64 tribes are represented in the women's division of the South Sudan Council of Churches," said Maria Bol (not her real name), a member of the ecumenical body responsible for organizing the marches. "The challenge in South Sudan is that the government has no tear gas. They just use live bullets against peaceful protesters. But our actions often go on uninterrupted, since they know we are peaceful and prayerful."
Although the international media portrays South Sudan's women and youth as passive victims of their tragic circumstances, it is exactly these demographics that are pushing back against this brutal regime. In November, youth members of more than 40 women's organizations convened the largest anti-war demonstration since the war began. Thousands turned up, wielding messages of peace while Kiir's national security forces—responsible for intimidating and abusing his critics—attempted to single out leaders.
These leaders continue to suffer—some even being intimidated in the neighboring countries to which they fled—and threats continue against their family members back home.
All Black Lives Matter
04-25-2018
Seventeen percent of U.S. special forces deployed abroad are in Africa—where the U.S. is not (officially) at war.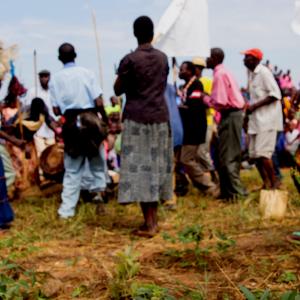 REMEMBER WHEN the Kony 2012 video went viral? The short documentary, produced by the controversial Invisible Children organization about brutal Ugandan rebel Joseph Kony and the Lord's Resistance Army, purportedly reached more than half of young adults in the U.S. when it was released. Young Christians across the country swarmed their elected representatives, urging action against Kony, which quickly legitimized Obama's deployment of U.S. military forces to hunt a relatively idle madman with depleted resources.
Since then, U.S. militarization in Africa has shown no sign of slowing. In 2006, according to The Intercept, "just 1 percent of [U.S.] commandos sent overseas were deployed in the U.S. Africa Command [AFRICOM] area of operations. In 2016, 17.26 percent of all U.S. Special Operations forces ... deployed abroad were sent to Africa." The U.S. admits to the existence of one permanent base in Africa, in Djibouti on the Gulf of Aden, while U.S. special forces are deployed in "more than 60 percent of the 54 countries on the continent."
Special operations and collaborations with proxy militias enable U.S. militarism in Africa to persist with very little public awareness or oversight—and wreak havoc on local populations.
"By keeping us in a state of perpetual war, the arms trade grows," said Norman Tumuhimbise, a Ugandan youth activist kidnapped and tortured in 2015 by a branch of Uganda's military that trains under U.S. anti-terror programs.