Posts By This Author
If I Know All the Latest Anti-Oppressive Lingo, But Have Not Love...
06-30-2016
A timely reminder for faith-based activists.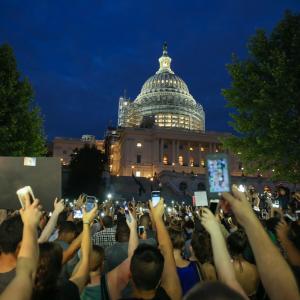 If I speak about courage and justice, and siding with the oppressed, and speaking truth to power no matter the cost, but do not speak about love ... I am just a loud-mouthed orator, a shameless self-promoter.
If I am excellent at nonviolent communication, and I take great pictures, and I know all the latest anti-oppressive lingo, and I can analyze racist systems so as to dismantle them entirely, but have not love, I am nothing.
If I fully embrace the work of prophet and activist and martyr, and get dragged away by the riot police or bombed by the military of my own country, but have not love, that is no use to anyone.
Love survives evil, war, oppression. Love is patient. It remains when the tear gas clears and the children go back to school. It is still there when the water is protected. Love is kind, not arrogant, not insisting on its own way, but making space for joy and truth even in the hardest circumstance.
Whether it is love between two people, or love of a person for their community, or love of a community for its land, or love of justice and peace and equity, love bears all things, believes all things, hopes all things, endures all things. Love never ends.