Olivia Paschal is a freelance journalist and PhD student in history at the University of Virginia. She is based in Charlottesville, Va. and the Arkansas Ozarks. Prior to starting graduate school, she was a reporter with Facing South, the online magazine of the Institute for Southern Studies, and an editorial fellow at The Atlantic. You can find her on Twitter @oliviacpaschal and on her website oliviapaschal.com.
Posts By This Author
How a Credit Union Is Building a New Vision of Financial Justice
03-28-2022
Across the Deep South, Hope Credit Union provides more than investments for communities of need.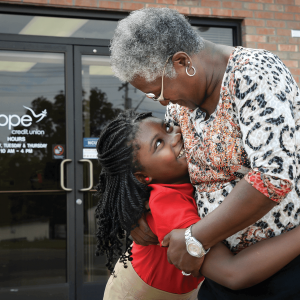 IN THE 1960s, Louise Morphis stored her money in a neighbor's garage in the small town of Bynum, N.C. The rural Southern town's white-run banks refused to serve the Black community, so the neighbor, vice principal of the local Black public school, housed a credit union in his garage through the 1990s.
"Some people go to the bank, some people have to go to the garage," Morphis' grandson, William J. "Bill" Bynum, told Sojourners. Those early memories of economic injustice stayed with Bynum, who was born in East Harlem and moved with his family when he was age 5 back to Bynum—"an old mill town actually named after my ancestors who had once worked there as slaves," Bynum told the Delta Business Journal last fall.
In 1995, Bill Bynum helped found his own version of the "garage bank" his grandmother used. That seedling project, begun in the tithing room of a church in Jackson, Miss., became Hope Credit Union. Today, Hope has 23 branches and has generated more than $3.6 billion in financing in the Mississippi Delta region and across the Deep South.
Hope found its purpose in places where—as in Bynum's hometown—entrenched generational poverty can be traced back to slavery. "If you look at a map of the country prior to the Civil War, and where slavery was concentrated, and a map today of where you have the worst job conditions, housing conditions, education outcomes, health outcomes, and where you have the fewest banks and the most payday lenders, they're the same," said Bynum, who serves as CEO of Hope Credit Union. "There's a legacy of underinvestment and—no other way to describe it—institutional discrimination that limits opportunity."