Naveed Ahmad is a freelance journalist based in Pakistan and Turkey. Follow him on Twitter: @naveed360.
Posts By This Author
Pakistan Faces Criticism for Harsh Blasphemy Law
02-19-2014
Mohammad Asghar, a 69-year-old paranoid schizophrenic, faces a death sentence in Pakistan for claiming to be the Prophet Muhammad in letters written to officials and police in 2010.
The retired British national of Pakistani descent is partially paralyzed after a stroke, but Pakistani courts have so far refused to acknowledge his physical and mental limitations.
The charges against Asghar recall the case of Rimsha Masih, a teenage girl who was alleged to have dumped torn and burnt pages of the Quran into a garbage heap nearly two years ago.
Sunni-Shiite Violence Soars in Pakistan
02-03-2014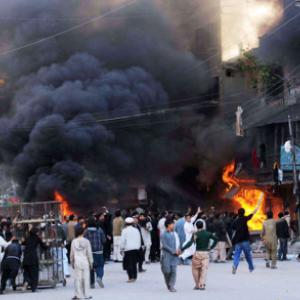 Qadeer Abbasi is recovering from a broken arm in his two-room shanty home not far from the capital, Islamabad.
On Nov. 15, Abbasi, 34, offered noontime Friday prayers at Madrassa Taleem ul Quran when the seminary was attacked by a procession of Shiite mourners. Besides the Sunni madrassa, the Shiites also struck 100 shops, four private banks, and scores of cars.
In less than an hour, 12 people were killed and intense gunfire prevented humanitarian services from ferrying the injured to hospitals.