Fellowship Program Director & Church Network Coordinator
Rev. Moya Harris is an itinerant elder in the African Methodist Episcopal Church, currently serving at Metropolitan AME Church in Washington, D.C. as the executive minister and minister to women. She is the Sojourners Fellowship Program director, overseeing program details while offering spiritual guidance and pastoral support to each cycle of fellows who live in intentional community and work in entry level positions within the organization.
Rev. Harris has served in many different capacities over her 15-plus years in ministry. While she did not grow up in the church and accepted Christ as a young adult, she can now see God's calling throughout her life. She also is a registered nurse with over 27 years' experience, specializing in cardiac catheterization nursing. She earned a bachelor's in science degree in nursing from Towson State University and a Master of Divinity degree from Payne Theological Seminary and is currently a doctoral student in the African American preaching and sacred rhetoric program at Christian Theological Seminary. Rev. Harris has been married to the love of her life, John I. Harris, III for over 21 years, and is the mother of Sierra Battle, a graduate of Morgan State University.
In the words of the late Rev. Dr. Katie Geneva Cannon, Rev. Harris is attempting to do the work her soul must have, marrying theory and praxis, scholarship and service. She believes that justice and faith are inseparable and is quick to challenge violent theologies that attempt to oppress and marginalize. She believes that God, even in these difficult times, is still breaking through time and space, making all things new. She has a passion for scholarship, justice, hip hop, and baseball. She can easily be found reading a book or writing a paper while listening to A Tribe Called Quest or The Roots while drinking a double espresso.
Posts By This Author
Women's Needs Are Holy. Overturning Roe Ignores That
06-30-2022
I have been ruminating on the significance of being a pro-choice Black clergywoman in a post-Roe United States. I understand how this may sound subversive despite the fact that two-thirds of American women disapprove of the Supreme Court's decision last Friday to overturn Roe v. Wade. To some people, it's incompatible that I could be a minister and support someone's right to choose to have an abortion.
White Supremacists Defaced Our Church, But We Refuse to Lose
12-18-2020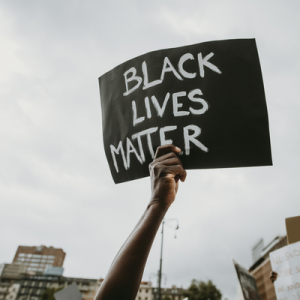 To be a Black woman in America and be relatively conscious, to paraphrase James Baldwin, is to be in a state of constant rage. Sweet holy songs don't readily come to me. Christmas songs do not come to me. As a Black woman who happens to serve at a church that experienced white rage this past weekend when a group of demonstrators ripped down our Black Lives Matter banner and set it on fire, I am angry. And I'm tired.