Max Hunder is a reporter for Reuters.
Posts By This Author
Communities Torn as Ukraine Turns Its Back on Moscow-Linked Church
05-15-2023
As a crowd gathered outside the white-brick Orthodox church in the village of Karyshkiv in western Ukraine, raised voices quickly turned to shouting. Soon old women were crying. The villagers were quarrelling over the affiliation of their parish church, which belonged to the Ukrainian Orthodox Church (UOC) that the government in Kyiv accuses of being under the influence of Moscow.
Ukraine Prepares Law Banning Russian Churches
, 12-02-2022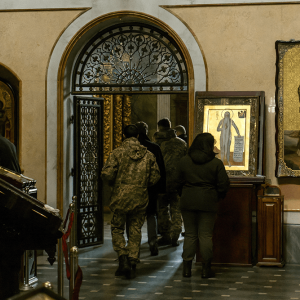 The Ukrainian government will draw up a law banning churches affiliated with Russia under moves described by President Volodymyr Zelenskiy as necessary to prevent Moscow being able to "weaken Ukraine from within."