Mariella Saavedra is Peruvian, an aspiring citizen of the United States, and a mental health counseling graduate student at Columbia University who is interning at America's Voice Education Fund as a part of DREAM Summer. She enjoys writing and dancing, and plans to be a bilingual therapist who serves immigrant populations.
Posts By This Author
Five Ways You Can Help DREAMers Find Relief
08-03-2012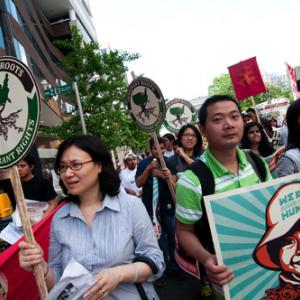 As many as 1.4 million undocumented immigrant youth — aka "DREAMers" — would qualify for temporary work permits and be shielded from deportation once President Obama's DREAMer relief goes into effect August 15.
I am one of these DREAMers.
I came to this country from Peru when I was five years old. While I miss my homeland, I've come also to appreciate and thrive in my new one.
I've volunteered in my community at museums, schools, and hospice centers. I've had the privilege also of attending one of the top private, liberal arts schools in the nation and now am continuing my education as a mental health counseling graduate student.
President Obama's DREAMer relief finally will give DREAMers such as me a chance to fully engage in this country. I finally will be able to work and, like the rest of my peers, get to experience the joys and challenges of being gainfully employed.