Margaret R. Pfeil, a founding member of St. Peter Claver Catholic Worker community, holds a joint appointment in the theology department and in the Center for Social Concerns at University of Notre Dame, where she is also a fellow of the Joan B. Kroc Institute for International Peace Studies.
Posts By This Author
"I Used to Believe in a Just War, But I Don't Anymore."
06-25-2020
How Christians are reckoning with the contradiction between "love your enemies" and nuclear weapons.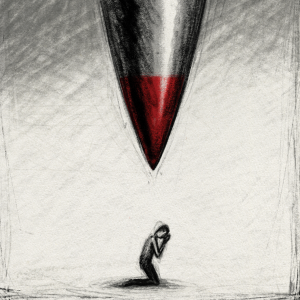 CONSCIENCE, REMARKED MORAL theologian Richard Gula, "is another word like 'sin'—often used but little understood."
As a teenager growing up in the naval stronghold of San Diego during the Reagan era, I experienced a recurring nightmare about war with the Soviet Union, which became darker as I learned more about the U.S. atomic bombings of Hiroshima and Nagasaki, which took place 75 years ago this August. During that time Joan Kroc, an anti-nuclear leader who was also principal owner of the San Diego Padres baseball team, and others organized Mothers Embracing Nuclear Disarmament. On the 40th anniversary of the Hiroshima and Nagasaki bombings, thousands gathered in Balboa Park, and my fear was transformed into a conviction of conscience to work for nuclear disarmament.
Conscience involves the capacity to discern and choose the morally right course of action in a particular situation. In doing so, a person brings to bear a lifelong process of formation of conscience. Each person has the obligation to form his or her conscience as fully as possible, and to follow it.
The formation of conscience is highly personal and socially situated. Hebrew and Christian scriptures, as well as theological writings such as those by St. Augustine, provide steps for building moral character, teaching moral reasoning, and forming our moral conscience to offer judgment based in practical reason to recognize and seek what is good and to reject what is evil.
This process for engaging Christian moral thinking involves four key elements:
Be open to the truth and draw upon the prudent wisdom of personal and communal experience.
Seek reliable teaching, including from scripture and Christian tradition.
Review the best available information and consult trusted persons with relevant expertise.
Engage prayerful discernment and conscientious action through the gift of the Holy Spirit to guide one's application of moral values in each case.