Marcelo Vargas, with Silvana Vargas, directs the Missionary Training Center in La Paz, Bolivia. He is executive secretary of the Latin American Theological Fraternity.
Posts By This Author
In Christ, No Male and Female
04-25-2018
While chauvinism has been rooted in missionary evangelicalism, within Aimara neo-Pentecostal families, gender relations are more symmetrical.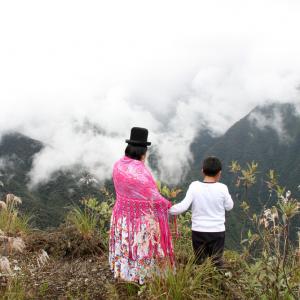 The religious ideas and practices of the Indigenous peoples of Bolivia, primarily Quechua and Aimara, flow like a subterranean stream through the country's dominant Catholicism, particularly in La Paz, the most culturally Indigenous capital city in Latin America.
But evangelical Christianity, brought to Bolivia by European and North American missionaries more than 100 years ago, has also maintained a relationship with Bolivian culture—and that culture has shaped the church even as evangelicals have increased in numbers and influence.
Evangelical and other Protestant denominations, especially the neo-Pentecostals, have reached out to Aimara Indigenous communities, even while respecting fundamental components of Aimara ethnic identity. Thus while a chauvinism rooted in both national tradition and missionary evangelicalism dominates most male-female relationships in much of Bolivia, within Aimara neo-Pentecostal families, gender relations are more symmetrical.
Partly as a result of these cultural values, Indigenous women play important leadership roles within many neo-Pentecostal churches and organizations. They speak their own language in services and adopt symbols and rituals that come from their own Indigenous identity rather than European Protestant tradition. Whether it is recognized or not by outsiders, the Aimara identity proposes new ways of living and representing the Christian faith. Through the meeting of Aimara culture and neo-Pentecostalism, the assumption of male hierarchy is being questioned and subtly transformed.