Liz Dodd is home news editor of The Tablet and has written for National Geographic Traveler and The Sunday Times of London.
Posts By This Author
Dorothy Day: Anarchist Grandma, Patron Saint of the Resistance
02-25-2020
The Catholic Worker cofounder died nearly four decades ago, but a new film shows that her vision is very much alive.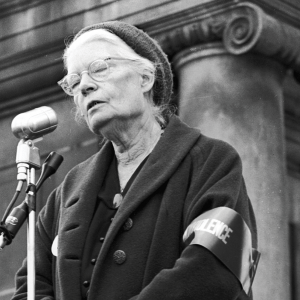 WHEN POPE FRANCIS addressed Congress during his 2015 visit to the U.S., he named four great men and women whose legacies helped shape the fundamental values of the American people: Abraham Lincoln, Martin Luther King Jr., Thomas Merton, and Dorothy Day, the Catholic social activist and pacifist. It was among his most audacious statements during the trip, and he got away with it because—outside of churches and the peace movement—Dorothy Day, the woman who could become America's next saint, is largely unknown.
Revolution of the Heart: The Dorothy Day Story, a new documentary film by Martin Doblmeier, wants to put that right. More than a biography, this tapestry of archival footage and new interviews—which include Day's granddaughters, plus devotees such as Martin Sheen and Sister Joan Chittister—is narrative theology, an argument for why an anarchist grandma could be a patron saint for those countering Trump's America. "Dorothy Day spoke out publicly and forcefully in support of fair pay for workers, against the great imbalance of wealth, excessive expenditures for weapons, nuclear proliferation, and unjust wars overseas. We struggle with these same issues today," Doblmeier tells me. He believes her life story is a roadmap, a spiritual guide for troubled times.
The film opens not with Day's birth in 19th century Brooklyn, nor the years before her conversion, which she spent darting from bohemian parties to inner-city Masses, but in the 1950s, when the Catholic Worker movement she co-founded as a network of "houses of hospitality" took to the streets to protest the arms race. We see Day's Catholic personalism—her belief that Christians must take personal moral responsibility for injustice—in action, and it is bracing and alienating. We meet her isolated from the Catholic Church: a voice crying in the wilderness. Doblmeier's nods toward contemporary politics make this a challenging introduction. "I think Dorothy Day presents a direct path that we all can take," he explains. "She believed if you see someone in need, you fix it yourself. You don't wait for the government or a social service agency to intervene."