Laura Petrecca writes for USAToday.
Posts By This Author
Companies Taking A Stand on Political Issues
07-31-2012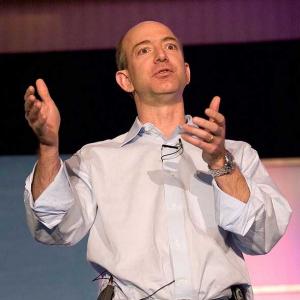 In an unconventional move, a number of high-profile business executives have come out on the issue of gay marriage.
Amazon.com founder Jeff Bezos is the latest to say "I do" to supporting same-sex unions. On July 27, Washington United for Marriage, a coalition that seeks to uphold a gay marriage law that passed in Washington, announced that Bezos and his wife MacKenzie will donate $2.5 million to its cause.
Microsoft founder Bill Gates and CEO Steve Ballmer have each donated $100,000 to the effort to keep gay marriage legal. Ken Powell, CEO of food behemoth General Mills, has publicly spoken out against Minnesota's proposed amendment that would ban gay marriage. And Paul Singer, founder of financial firm Elliott Management, recently contributed $150,000 to Freedom to Marry, which fights for gay marriage across the nation.
... Yet there are also many who support Chick-fil-A and Cathy.
For example, former presidential candidate Mike Huckabee says he's "incensed" by the negative feedback, and in turn has deemed Aug. 1 "Chick fil-A Appreciation Day," when he's asking consumers to support the chain by eating there.
Mourning 2.0
06-04-2012
When her 91-year-old aunt passed away in 2010, Diane DiResta videotaped the eulogies to create a record of the moving words spoken. She wasn't ready to talk about her aunt at the service, so she used an online tool for publishing audio to record her thoughts, then e-mailed the audio file to close family.
And when a cherished 89-year-old uncle died in Las Vegas in February — and there was no funeral service to follow — the New York City resident again turned to technology.
"Since there was no way for the family to share his life and express their grief together, I created a blog," she said. "I added pictures, and family members were able to post their memories of him."
This is Mourning 2.0. Technological advances have dramatically altered how we grieve for and memorialize the dead.

In this new era, the bereaved readily share their sorrow via Facebook comments. They light virtual candles on memorial websites, upload video tributes to YouTube and express sadness through online funeral home guest books. Mourners affix adhesive-backed barcodes or "QR code" chips to tombstones so visitors can pull up photos and videos with a scan of a smartphone.