Kyle Joachim is pastor of Silverlake Community Church in Los Angeles.
Posts By This Author
Feeding Those Who Can't Shelter-in-Place
04-21-2020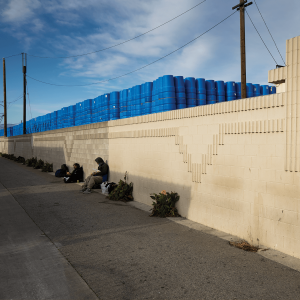 "MOST OF OUR volunteers are senior citizens, but in early March we had to ask them not to come. At the same time, phone calls to the church were increasing: 'Is your food pantry still happening?' We didn't know what we were going to do, so we put it out on Instagram to the community, like, 'Hey, we need volunteers, and if you're not immunocompromised, please consider coming out and helping.' And we had a great response.
We've served record numbers of people at our food pantry, and our volunteer base is not from the church; it's young hipsters, real estate agents, and people who are themselves food insecure but are wanting to pay it forward. We can't give out hot meals anymore, because if we do, people naturally gather and congregate. The whole thing has become a lot less personal. While we're serving a lot of people, there's not as much laughter.