Kristen Marble is a speaker and writer (KristenMarble.com) from Montana. She is a Commissioned Pastor with the Evangelical Church of North America and leads The Bridge house church. She studies theology at George Fox Seminary and is preparing for PhD studies in biblical studies.
Posts By This Author
Guns ... According to Jesus
02-11-2013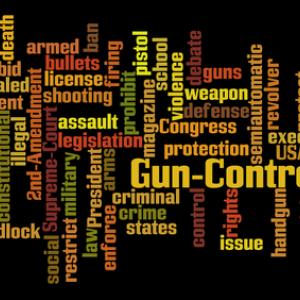 Red, white, and blue. Pick-up trucks. Apple pie. Baseball. Church on Sunday. And guns. You can't get much more American than that, or so it seems here in Montana. This week a regional newspaper posted on Facebook looking to find proponents of greater gun restrictions for an article they were writing. Within minutes the request was laughed at, belittled, and deemed unlikely. Truth is, even if someone did lean toward greater gun control, they never would have publicly responded. To utter such absurdities is equivalent to branding yourself anti-freedom, anti-American, and even anti-Christian. To listen to the rhetoric, gun control of any kind is nothing more than an eager embrace of Nazi-fascism, Chinese-communism, and the demise of all things American. And surely God would disapprove.
Which makes me wonder: what would God say about gun control? Not in some sort of glib WWJD-type platitude, nor in an entangled concoction of American freedom and Christian theology. And definitely not in a sensationalized proof-texting approach to scripture. But honestly, can our faith inform this conversation? And should it?