Kim Chandler writes for The Birmingham News.
Posts By This Author
'10 Commandments Judge' Wins His Old Job Back
11-08-2012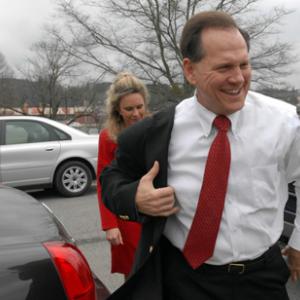 MONTGOMERY, Ala. -- Roy Moore, forever known as Alabama's Ten Commandments judge, has been re-elected chief justice in a triumphant political resurrection after being ousted from that office nearly a decade ago.

Republican Moore defeated Jefferson County Circuit Judge Bob Vance, a Democrat, to win back his former office.

"It's clear the people have voted to return me to the office of chief justice," Moore said.

"I have no doubt this is a vindication. I look forward to being the next chief justice," Moore told a crowd of sign-waving supporters.

Moore thanked supporters at his party for sticking with him through what had been an up-and-down night that had Vance out to an early lead. Moore eventually won the race with 52 percent of the vote with 99 percent of precincts reporting.

"Go home with the knowledge that we are going to stand for the acknowledgment of God," Moore said to shouts of "Amen" from supporters.