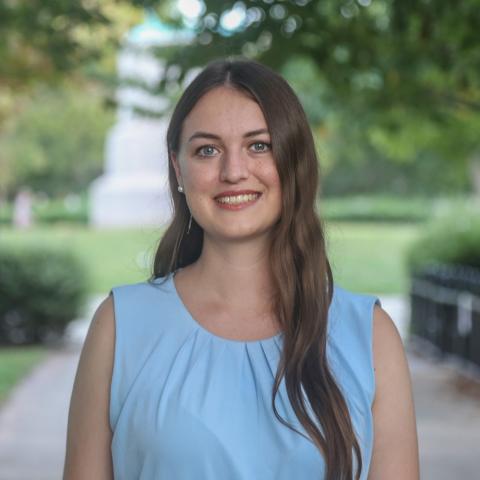 My name is Katie Smart (she/her), and I am excited to join the Sojourners Fellowship Program as this year's communications assistant. I grew up in the Greater Los Angeles area and have a bachelor's degree in international studies from American University, as well as a certificate in paralegal studies from Boston University.
While in college, I chose to focus on the topics of human rights and conflict resolution. I spent my junior year studying abroad in the Middle East. During my first semester, I spent my time outside of class volunteering for the African Refugee Development Center in Tel Aviv, where I served as an English tutor and assisted with a project raising awareness of issues impacting women seeking asylum. The following semester, I lived in Amman while interning for Squash Dreamers, an organization that provides sports coaching and English lessons to young Syrian refugee girls. I have also advocated on Capitol Hill and hope to pursue a career in international human rights law in the future.
As someone whose faith strongly influences my commitment to justice and human rights, the mission of Sojourners resonates very deeply with me. I was drawn to the Sojourners Fellowship Program because it seemed like a wonderful opportunity to work toward social justice from a faith-based perspective.
In my free time, I enjoy reading and also have a strong love for music. I have been playing viola since elementary school and minored in music performance in college. I also enjoy hiking and board games, and I'm always happy to start new adventures and try new things.
Posts By This Author
Searching for 'Appropriate' Holocaust Stories Is a Mistake
03-23-2022
In Maus, Jews are drawn as anthropomorphic mice, while Nazis are portrayed as cats. The book chronicles the Spiegelman family's attempts to hide from the Nazis, showing the harshness of life in the ghetto, the desperation of parents attempting to protect their children, and the cruelty of Jews in concentration camps. It even addresses the lingering impacts of the generational trauma of the Holocaust on the Spiegelman family in a way that can only be expressed by someone who experienced it firsthand. The story it tells is dark and disturbing, but the story of Spiegelman's father and the story of the Holocaust requires such a telling.