Katherine H. Maynard teaches humanities and communication courses at the Community College of Vermont.
Posts By This Author
August Fire—1965
06-23-2021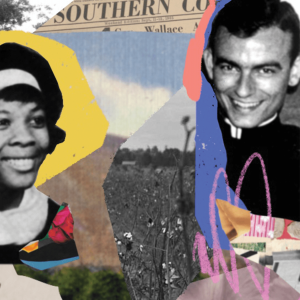 Who is scorched worse,
the one who dives to take the bullet,
the one who shoots,
or the woman spared?
Take Ruby Sales, for example—
how she and Jonathan Daniels,
thirsty from heat and the Hayneville jail
stop for a cold soda on their way out of town.
Deputy Tom Coleman is angry, is ready;
he aims his gun pointblank at Ruby.
Daniels sees it coming, pushes Ruby over
throws his body in bullet's path.
Editor's note: Sales, founder of the SpiritHouse Project, is a nationally recognized human rights activist and public theologian. Coleman was acquitted of the death of Jonathan Daniels by an all-white jury and died in 1997.
Poetry: Kevura
04-25-2018
          Light dimming now the two friends hurry
to lower the body. Joseph's thumb bleeds,
stuck by thorns when he cradled the head
while servants wrapped limbs in carry sling.
Nicodemus staggers beneath a hundred
pounds of spice-packed jars on his back,
no heavier, he thinks, than the fear which
held him burdened for so long.
          In silence they leave
the carrion crowd, wind along stone garden paths,
weave past carved caves. The grave they had readied
for themselves in death, the two now give
the Galilean—though they know now
it was life he had bestowed when first they met
in dark of night, in temple yard.
          In silence they perform
the ancient rituals. Wash the body,
anoint with aloe, wind the myrrh-filled cloth
encircling feet, legs, arms, hands,
strips of linen woven under the scarred
small of his back, stretched across his yielding
torso, layer upon layer of burial resin
mixed with aloe filling
the stone chamber with the scent of death.
          Light dimming now the two friends hurry
to shroud the head, cover the beloved's face.
Their hearts say linger but day is gone
so they pull the stone in place, rush to wash
for Sabbath prayers.
          In silence the garden sighs.
Plants furl in the dark. The rising wind keens
the song a thousand spices cannot mask,
the dark a tombed heart
too heavy for even night to bear.