Kate Leaney is the Managing Director of The Welcome Centre ; a drop-in center service for refugees, asylum seekers and new arrivals in Adelaide. She was named "2014 Young Citizen of the Year" by the Charles Sturt Council for this work, and is an active member of Activate Community Church (ACC).
Posts By This Author
Double Victory: 'Winning Over the Cops Who Had to Arrest Us'
06-27-2014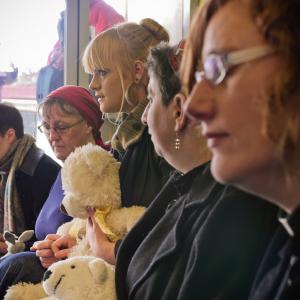 "We will not only win victory for ourselves; we will appeal to your heart and conscience that we will win you in the process and our victory will be a double victory." – Martin Luther King, Jr.
Four years ago I was working a corporate job for a national AFL team. It was well paid. I had great opportunities. Life was good. If you had told me that I was going to become a Christian, I would have laughed in your face. If you had gone on to say I would leave my well-paid job to spend my days running a Welcome Centre for refugees while working side jobs to make ends meet, I would have questioned your mental health. If you had added that I would be arrested with church leaders and a rabbi while continuing Martin Luther King's work, it would have certified to me that you were crazy.
On Monday I walked into Austrailian MP Jamie Briggs' office to be arrested with seven Christian leaders and a rabbi. It sounds like the start of a joke. (My life is teaching me God has a great sense of humor.)
Why were we arrested? There are 983 children and their families currently in Australia's detention centers.
These children are kids just like our own, with their made-up games, whispered jokes, and giggles. Their families dream of a future of safety. Our incoming Governor of South Australia, Hieu Van Le, arrived by boat in Darwin seeking refuge 36 years ago, with "nothing but a suitcase filled with invisible dreams. A dream to live in a peaceful, safe and free country and to live a meaningful and fulfilling life." In the past, Australia has been the kind of nation that grants dreams like this – why not for the 983 future Hieu Van Le's and their families in detention?
A world away and so many years later, how is Martin Luther King's freedom movement related to the current plight of asylum seekers in Australia? Well, the links are stronger than you think.